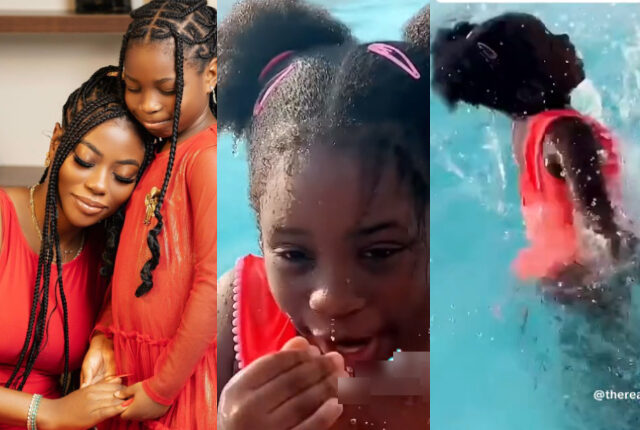 After posting a video of her daughter Imade swimming in a pool, Davido's babymama, Sophia Momodu, stirred controversy.
Imade, Davido's first child, was seen soaking up fun in a pool with a pal in the endearing video.
Imade was applauded as she swam flawlessly by Sophia Momodu, who filmed and uploaded the video.
Many online users responded to the video by flooding the comments section with recommendations that Imade be taken away from the pool.
@Yetty,June 17th said: "Abeg make una calm down, this one na fish nothing go happen."
@queen speedy said: "pls i dont want to hear story about this little girl again oooo like ifeanyi pls"
@itzamara said: "Una don start again i no wan hear nonsense again.make them no collect this one abeg."
@user9441758500011 reacted: "Pls mummy Imade keep her her out of that so that devil will not take chances pls."
@user1156971482020 said: "someone cnt swim In peace again, u re really bitter."
@chizzyrose7 said: "Una don dey swim again ooh. I no won hear story."
@layomartins reacted: "This video just made me to remember ifeanyi, it is well."
@ajibolaadebowale7 reacted: "Please dont take imade to pool jor please please."
@vicky commented: "Imade commot for water."
@Nikkypearl commented: "I don see comment wey I Dey find, commenters will never disappoint."
@Jared jude2101 said: "Yoy guys should leave this lady. Davido and chima are moving around now, let her moving around with her daughter too."
@ELLA DIOR commented: "Pls protect my imade, Sophia protect your tin oh thanks I love u."
@Oluebube miracle said: "Una done start again, good jooob tomorrow make person no tell me she don drawn abeg, davido hope u dey see dis."
@user9571478217639 said: "Swimming again, hmmm"