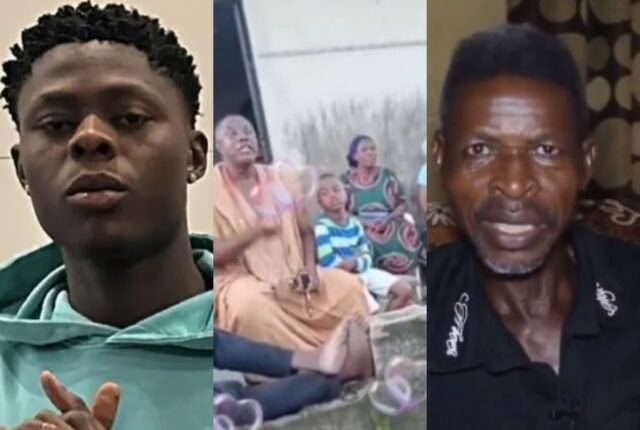 Several emotions have begun to trail a new video of Baale of Ikorodu in Lagos State speaking about Mohbad's death.
In the latest video, Baale of Ikorodu says Mohbad dad planned to bury him at midnight on the same day he died before he stopped him.
Recall that Mohbad died at the age of 27 on September 12th 2023 in controversial circumstances and by extension was laid to rest on September 13th, 2023 in Ikorodu, Lagos State.
The Baale of Ikorodu revelation comes days after the Coffin Maker makes it known to all and sundry that the late Mohbad neck was bent in the casket because the father and family of the late singer rushed him and he wasn't allowed to take the measurement of his size.
While Mohbad father has been linked by many as being irresponsible over his decision to bury Mohbad the next day after his death when he is not a Muslim, others claimed something is fishy and the father is a suspect that should be put behind bars.
Also, Nigerians have demanded that an autopsy be carried following the startling revelations of him being harassed and assaulted while he was alive and the body will be exhumed by the police today, September 20th or latest Thursday September 21st.
Watch the video of Baale Ikorodu below;
Reacting to the post;
mandy__chuks: It's better to be fatherl€ss than have a father that's this evilllllll.
hunnie_wealth: Does he knew that mohbad wanted to gave up that day?? Cos why the quick burial.
mustapha.haggi: Abg make they go carry this boy body comot for there he fit never die when they bury m.
winnie_wonka: They even turn his own father against him. How can someone survive such pain!!!.
koko_barbz: Can you imagine! I said it that it was too damn fast!!! Something fishy is truly going down! Waiting for the Autopsy cos plot twist go choke! #justiceformohbad.
houseofphreedahbodycare: E be like say I go give this mohbad father hot slap which kind didirin father be dis…..then kill your ogo idile e You still they fear treat WHO GO FEED YOU BAYI ABI DASH YOU CLOTH?????? Se bi them say parents they take bullet for there children ni?????????????my state mind is shattered for the past 7days kilode you wan bury pikin mid nite????