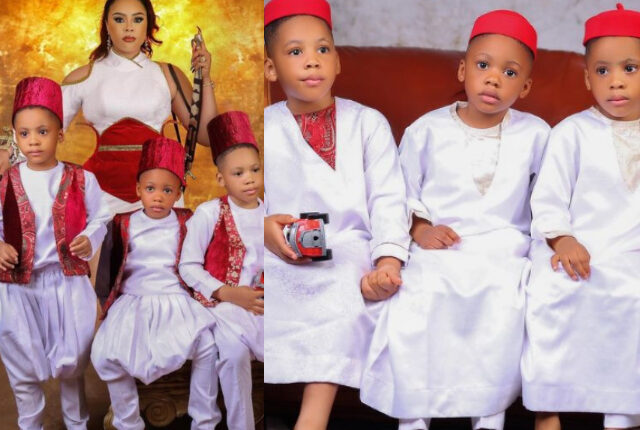 Femi Fani Kayode's ex-wife Precious Chikwendu, an ex- beauty queen, has sent an affectionate letter to their triplets in celebration of their birthdays today.
Precious Chikwendu wrote an lengthy piece on her Instagram page about how having children causes one to stop thinking about themselves entirely.
She continued by saying that for one's children, one can go across oceans and conquer mountains.
Precious assured her children that she makes them her priority every day and will stand by them and fight for them her entire life.
It used to be about how she feels or is seen before they were born, but now it's all about them.
The ex-beauty queen expressed excitement in grooming them which she claims gives her joy and smiles.
"A thankful day!
Figuring that when one decides to have kids, it is no longer about them completely. A major portion of you is dedicated to the little ones and for them you would cross oceans and climb mountains just to get it right. My darling Ragnar, Adien, and Liam, I choose you every day and will fight for and beside you all my life.

It used to be about how I feel or how I am perceived but now it is all about you, you, and big brother Aragon. I choose you all a million times and more. Grooming you all gives me joy, your smiles are my reset button. I am so jealous of the fact that at some point I would be forced to share your sweetness with the world cause you all smell of greatness and love. My Honey boys, I want you to read this in 10 years and smile knowing your mama put out her expectations of you to the universe and you never disappointed her.

Ragnar

You are such a blessing, two fathers in one hence we call you Nnayi (our father). Your unusual smiles melt any stony heart effortlessly, and your winks, so charming. Most of all I love how you protect all of them like you were born for it. Nobody goes to them except through you and you are ready to stand up to anyone making your brothers sad. You are our warrior and my Liver. You know I need my life to function

Aiden

Wonder man, fiery and sweet you are. Your words are deep and soothing. Your heart so kind and loving. Your dedication to one person at a time is a subject I still study. You are loved and cherished my right and left kidney.

Liam

My joy giver, the way you pierce my soul with your searching glances whenever you hear my voice melts me. How you activate the mother in me effortlessly. My last born till you say otherwise, twin of my heart. You know if I go on I would give so much away. You are loved center of my heart. Again I ask God to watch and keep you in his light, to strengthen my bones and sharpen my knowledge to fit the task of raising warriors of valor and honor. His mercies forever be sufficient and May he fulfill every promise and word made to you all. I love you all like words can never describe. Happy birthday to US".