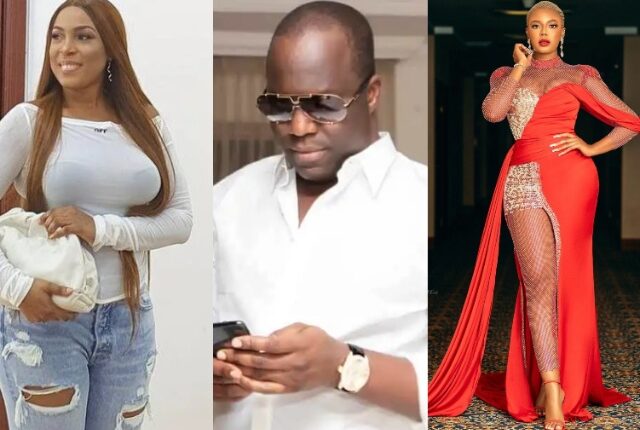 Nancy Isime, well known Nigerian actress and media personality, is rumored to be engaged to the baby daddy of blogger Linda Ikeji.
Jeremi, the baby daddy of blogger Linda Ikeji, has been in a relationship with Nancy Isime for a few years, according to popular Instagram vlogger Cutie Julls.
According to Cutie Juls, Jeremi's family went to Nancy Isime's family house to ask for her hand in marriage, as the introduction took place earlier today while preparing for the major ceremony.
Cutie wrote; "Hmmmm congratulations in Advance Nancy… By God's Grace, Jeremi's close circles have hinted that Jeremi will soon be asking Nancy the million dollar romantic question.
"Forget all those Tola and co, they were just good for "wild party girls" the source said. Nancy is the queen of Jeremi's heart and I was so happy hearing this.,"
Writing further, the blogger revealed that Jeremi is a husband material and is not like people see him.
Cutie continued. "Cuz we all judged Jeremi based on Linda's one sided which clearly Linda was at fault too. But we never had the opportunity to see what kind of man Jeremi truly is in terms measuring his husband material attributes.
"So after dating Nancy for this long, if he proposes then we can agree him and Linda we're just fcuk buddies and Linda fell pregnant cuz they didn't use protection and Linda expected Jeremi to marry her based on her big rich girl status. But maybe Jeremi didn't see Linda as his soul mate. Life isn't that hard you know for most of the these overly exposed gentlemen."
"So we wish Nancy all the best. Na her own we fit use measure Jeremi's niceness or fcuk up sh!t. And let the Awww group say a big AMEN."
See the post below;