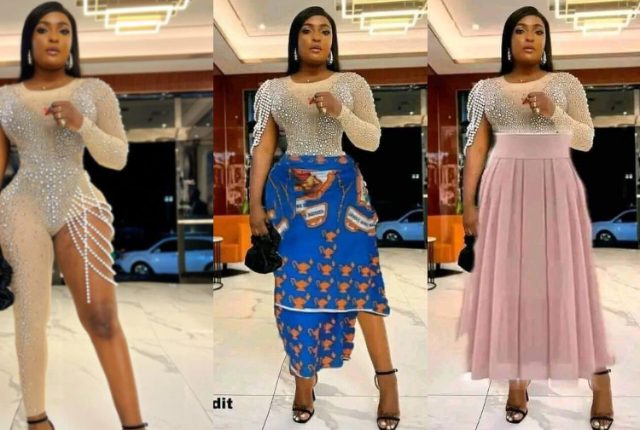 self-acclaimed relationship expert, Blessing Okoro better known as Blessing CEO, has sparked reactions online regarding her date-night attire which has really gone viral.
Netizens dragged Blessing CEO in the mud by making a new version of her outfit, which exposed some parts of her body.
Trending Online images of blessing CEO's have been edited to conceal the exposed body part by using a wrapper or a skirt in certain cases.
Although the attention-seeking and Controversial Blessing CEO is unconcerned with the design of her attire, many people have nevertheless criticized her for it.
reacting to the post;
One Balo taunted, "She might not even step out on any yeye date, you people like to have takes and talk about people, so she's giving you what to talk about. She just wants to trend, that lady can do anything for clout so long as her name doesn't leave your lips. Instagram pays in dollars remember!"
One Brownshuga wrote, "It would have been better if she stepped out in reality, than stepping out on the internet. Ara agbala relationship expert."
Omeihe Oluchi Assumpta; The man that bought this wrapper for her is a husband material full time.
Mhizz Loïs Tangue; he wrapper really make sense
Ebere Queen Ogbuokiri Anochili; Thank you for giving her small sense.
Sire Obinna Frederick: God'll bless whoever that this editing on her! So many clouts online supported her, am not surprised though
T Franca Chastisedlaureate Okoro: I don't blame people wearing the clothes but those making Dem.  think they're sick upstairs 🙄🙄
Chinyere Godwin: Much much better, God bless de giver of wrapper Amen
Esther Chinwe Ogbonna:Sister blessing ,May be an image of 1 person and standing
Chiamaka Stainless;I'm watching from Mercury you guys are funny 😄 on earth
Uzoma Kingsley Aliliafu: Very much better ooo… God bless the person that helped her tie wrapper oo… Haaa you do well
Prince Cosna Yomex:  I loved her more in the photoshopped wrapper than the synthetic yarnsh she formerly displayed….May God help us upgrade her sense to do better next time….
'See how tacky you look'- Blessing CEO's date night attire stirs reactions
Self acclaimed relationship therapist, Blessing CEO appears to relish being in the public eye for various reasons.
The mental and relationship expert is once again making headlines for her attire during a date night with her undisclosed partner.
Blessing CEO took to her Instagram page to post pictures with an interesting outfit that has got fans talking. She indicated she was going out with her boo in that outfit.
SHE WROTE: DATE NIGHT WITH BOO BOO. ASHAWO VIBES.
Netizens have reacted to her outfit. See some of the comments below:
One pretty berry wrote: So long as your are not my family member. The outfit is so hot and segzy.
Oone Naza penned: This is not good please madam relationship expert.
Tufab wrote: Na Quickie she go do. No be date she go for.
Thefoodnetwork penned: She looks like shekere… I can't unsee the resemblance
Derbie wrote: She is really showing symptoms of someone that has low self esteem 🤦‍♀️the way I [email protected] this woman eh only God knows.
Nenegeorge penned: Date night with IVD boss Abi?? Dey deceive yourself Aunty. Meanwhile that your dress is too revealing but who am I to teach an adult how to dress
Olarh wrote: Person wey no get class before … you're going on a date night , you dress like you're going clubbing.. if you had worn a cocktail dress ,it would still earn you the respect than this rubbish.