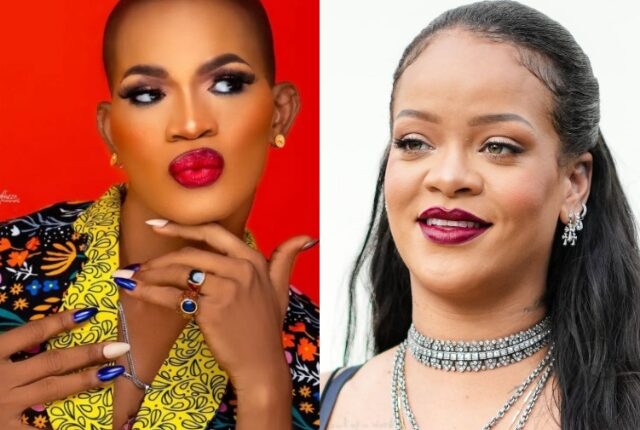 Uche Maduagwu, has questioned why people compare him to American singer Rihanna.
Taking to his Instagram page to share new photos of him dressed as a lady, he stated that he doesn't look like the music legend.
Uche Maduagwu crowned himself as Queen of Lasgidi, Queen of Luxury Fashion, and Queen of Luxury Lifestyle in Lagos.
The actor went on to reveal his concerns about embracing his actual self, but he has since gained confidence.
"Why is everyone saying that I look so much like RIHANNA? No please, I don't like that American music legend. I'm the Queen of LASGIDI, the Queen of Luxury Fashion and Luxury Lifestyle in Lagos. I was so afraid to Embrace my True self. But that was then, yes, I look so beautiful now, but dear Ladies, the True Beauty of a woman dey inside her Heart and not face".
"Don't believe everything you see on social media" Uche Maduagwu Reveals People Bankrolling Female Nollywood Actress, BBNaija
Uche Maduagwu, has disclosed that wealthy married men fund 80 percent of his female colleagues and former Big Brother Naija housemates.
According to Gistlover, the actor revealed this in an Instagram post, stating it is shocking that many women who flaunt their wealth on social media are dating married men.
He also urged people not to be envious of or try to emulate what they see on social media because not everything is real.
Uche went on to say that female skit performers and social influencers are no different, as they receive money from their wealthy lovers and spend it on luxury items to flaunt.
He wrote: "80 Percent of #Nollywood Actresses and Ex #BBNaija Housemates Dey #Date Wealthy #Married Men to show Off Affluence on social media. It's surprising but it True, so dear Ladies, no Envy or try to be like anyone.
"Not Everything you see on social media Na True. If you know how many #Hotel room these Celebs don pay inside to get most of what they show off on social media, you go shout Jesus.
"Skit Makers and Influencers for #Lagos own is worse, those ones Dey Follow Rich Married Men like SEY Tomorrow no Dey just to collect Dollars and buy New Expensive things to show Off"