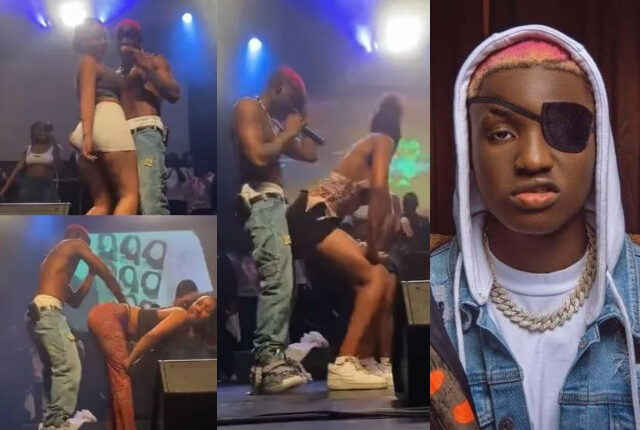 In a video from his concert in Toronto, "Asiwaju" hitmaker Ruger, who is currently on his Canada 2023 tours, takes stagecraft to a new level.
Ruger is well renowned for altering the brain chemistry of music listeners with his on-stage romantic interactions with women in addition to giving exciting concerts.
When Ruger brought out 5 women on stage in Canada, he pushed the crowd into a frenzy of enthusiasm, which was captured in the viral video.
The artist, who is more interested in electrifying the audience, instructed the women who were summoned up on stage to warm up their behinds since he was about to go crazy with it.
See reactions below;
able2blessed: This babes go tell their husband for future say that's in the past 😂😂😂 me i no fit accept this kind past o.
williams_g33: After ten years now,they will gather and sue him for inappropriate s+xual behavior 🤦🏼‍♀️🤦🏼‍♀️.
lexie_armani: Omo.. na person babe be this oh 😢.
obmasgold9_21: What's dis one doing, well there are leveto this that's why rema is where he is now.
adelaja8775: If you look at this one way, it is entertaining, if you look am anoda way, this is pure nonsense. Life….
officialsolokingfashon:e He should be careful all this girl may put him in problem ooh if he is not careful, s+xual harassment for European countries the matter no be here ooo.
iamjhaymax: Ruger ruger I no go bring my olosho come ur show cus that girl too lik celeb —- If she see ruger lik this she fit shift pant on stage for ruger disgrace me 🚶🏽‍♂️🚶🏽‍♂️🚶🏽‍♂️.
mcfranciq: Mtchewwww wtf is this rubbish, people go Dey disgrace themselves.
enebezt: Someone said money isn't everything again 😂😂😂😂 !?