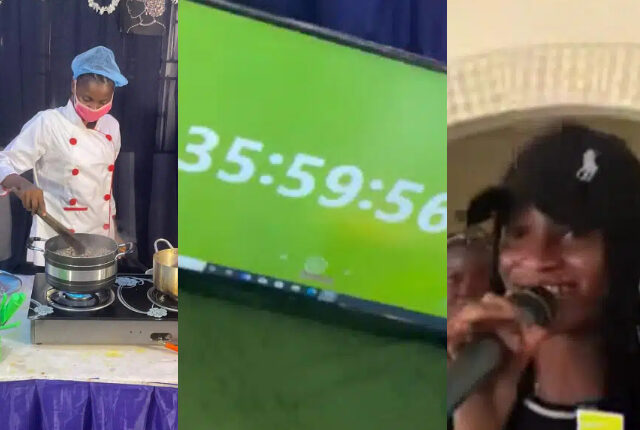 In an exciting turn of events, influencers and actors have flocked to assist chef Dammy as she undertakes an amazing culinary accomplishment, sending a wave of support and enthusiasm through Ekiti.
Damilola Adeparusi, a skilled chef from Ekiti, started a 120-hour cookathon in an effort to beat Hilda Baci's previous record.
The chef has been cooking for more than 36 hours at this point and is still going strong.
Influencers and actresses located in Ekiti were drawn in by the news of the cookathon as it immediately traveled across social media channels, and they spent no time in expressing their support.
With a resounding rallying cry of "Wahala be Like Bicycle!!!," these influential individuals have come together to offer their encouragement and admiration for the chef's determination and commitment.
As word spreads, the hashtag #EkitiChefCookathon has gained momentum on Instagram, with users sharing updates, photos, and videos of the ongoing event
See below;
Reacting…
One user @teeto_olayeni said;
"Go to a library, pick up a Guinness book of world records…read thru it and you will realize the endless amount of ridiculous world records you can still break or attempt. The whole cooking thing is kinda lazy, envious and attention seeking at this point."
Another user @iamblackbharbie22 added;
"She got the advice from a mad man"
@esther_modella wrote;
"She's doing well, she's paving way for herself!"
@_toby_loba commented;
"My own be say I know say nah person force that dammy to embark on this"
@meenahofbeautypro wrote;
"We can't keep hating on someone who's trying to make a difference!!!! Regardless of how she's going about it Let us show love to our fellow human"
@bcoin_marshal wrote;
"But wait o, will her record be recognized by GWR ? Even if she beat hilda's record, just thinking"
@cruzcollections wrote;
"Na me go do ibadan cookathon,I won make she finish her 120hrs fesss, mine na 200hrs 700 Guinness World Record must reach everybody"
@lizzyofblaze said;
"Even Guinness Book of record go don know say Nigeria na cruise"