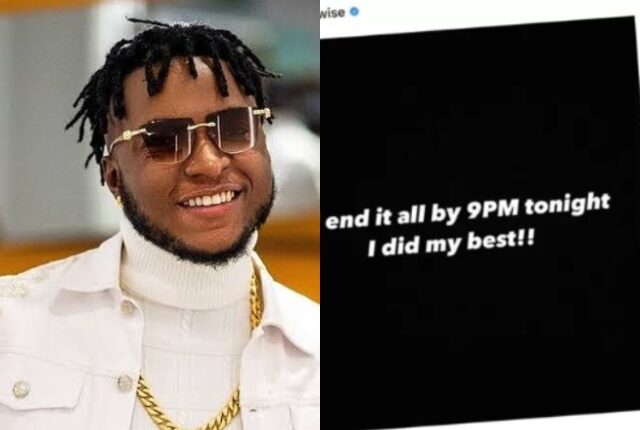 After publishing a frightening tweet, popular disc jockey DJ Kaywise has published a video in which he clears the air on charges made by his family members against his fiancée, Nelly.
Kaywise and Nelly's family had a social media feud a few months back, during which Kaywise's fiancée, Nelly, claimed that Kaywise's twin brother, Taiye, and some of Kaywise's sacked staff attempted to kidnap her.
She provided CCTV footage of a bunch of unknown individuals who parked their vehicles outside her flat as evidence.
Following this, Nelly released a post in which she said that it was alleged that she had bewitched him, making him slap his mother.
Shockingly for her, she found out that Kaywise's twin brother was part of these lies and the family never made any statement to refute the claims.
In a new development, after his disturbing post, Kaywise shared a video in which he addressed the issues, bemoaning that despite all that was allegedly said by his family members, none of them came out to debunk the rumours, not even his mum who was alleged to have been slapped.
He said;
"Ideally, I was expecting them to say the truth as children of God and as a Christian family, but that never happened. If not for this recent Nenny's case, I am pretty sure they would have kept quiet. During the course of this Nenny's case, I was invited by the police as a witness to the issue. That was when the police heard the whole story and they were shocked and that was when they mandated my family to go out and say the truth. Hence that is why you are just seeing a video of my mother trying to clear the air after eight months"
Kaywise added:
"In 2021, I had fired everyone in the CCTV footage Nenny put out, including my twin brother, for the horrible things that they did. I even reported the matter to my parents. Instead of them cautioning him and his association with those people, they supported all of them and asked me Kaywise to leave. I cut ties. So I see no reason why they will go to my babe's house uninvited. If you knew how I was raised, you go dey wonder why I dey even dey show love sef? But that doesn't mean that I am a fool. It just means that I am a better person.
If my family comes out and says I am lying, then I will have no choice than to drop the voice recording from that day and also other receipts that will shock you all."
According to Kaywise, he isn't going to make false statements, since he is a Christian and his family members cannot go behind his wife's back to apologize after sullying her image.
"If they now need me after three years and are regretting their decision of cutting ties, is creating all these lies the best way to go about it? Accusing and blaming an innocent girl. Girl they have met and dined with, of bewitching and kidnaping a grown man like me. Like who does that?
Fastforward to 2023, you can see that my family are still associating with the same people I fired three years ago. As sensitive as this is, I am not one to encourage bad things, I will only speak the truth because I am a child of God.
You cannot want to settle with your own child at the detriment of another person's reputation because that is someone else's child we are talking about. I believe they could have done better," he said.
Watch the video below: