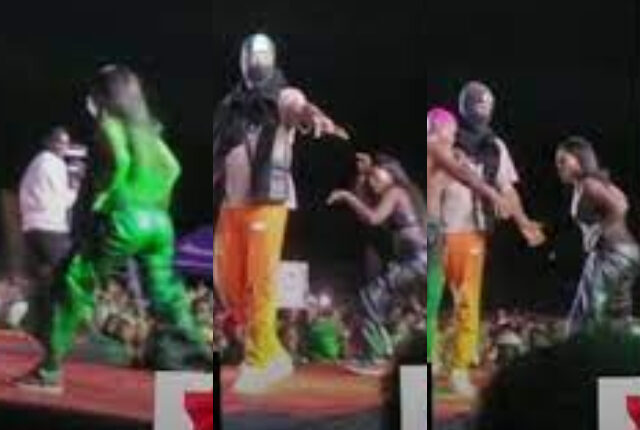 Ruger, a Nigerian singer, vented his frustration when an uninvited woman abruptly climbed the stage to demonstrate her physical flexibility.
A video posted to TikTok captured the young woman as she climbed the stage and started to demonstrate her talents, which looked like "Kung Fu."
She was instantly told to stop what she was doing and leave the stage by Ruger, who would have none of it.
Ruger was forced to ask his bouncers to take the woman off the stage since she continued to be insistent in her performance.
"Wetin be this? Please get this woman out of here", Ruger screamed.
"I can't believe you're a small boy" – Bingham University VC expresses utmost shock as he meets Ruger
In an unexpected change of events, well-known Nigerian musician Michael Olayinka, well known by his stage name Ruger, visited Bingham University in Karu, Nasarawa State, as a courtesy call.
The young artist met the esteemed Vice Chancellor, Professor William Barnabas Qurix, with the help of his staff, which led to an unexpected encounter.
When Prof. Qurix voiced his surprise at Ruger's arrival, the visit took a hilarious turn.
The Vice Chancellor said that he had always pictured the musician as a legendary person because he had seen him on television.
However, upon meeting Ruger in person, he was taken aback by the singer's relatively small stature.
A video capturing the memorable moment of their interaction has since gone viral, showcasing the genuine surprise on Prof Qurix's face.
The footage depicts the Vice Chancellor warmly welcoming Ruger with a handshake, while expressing his disbelief at the singer's smaller frame.
"I can't believe this; I can't believe you are a small boy. Welcome, I thought he was going to be one mighty man," he said.
He was clearly caught off guard by the singer's physical appearance.