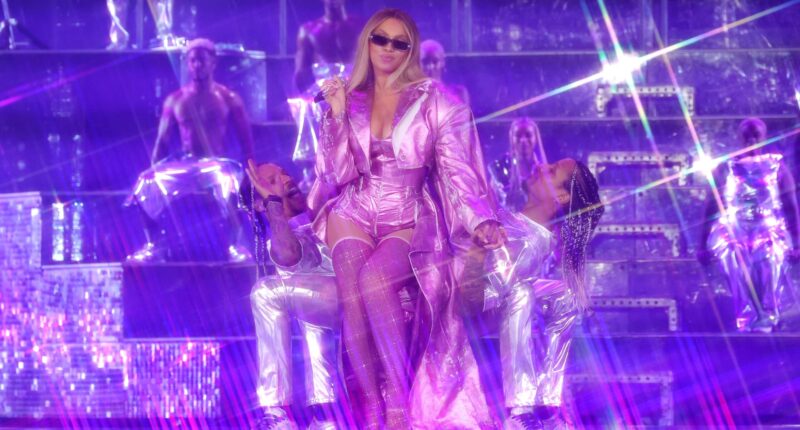 Beyoncé performs onstage during the "RENAISSANCE WORLD TOUR"
Kevin Mazur | Getty Images Entertainment | Getty Images
Movie theaters will become a Bey Hive this December.
Hot off the heels of a distribution deal to bring Taylor Swift's filmed Eras Tour to cinemas, AMC Entertainment has partnered with Parkwood Entertainment to bring a documentary on Beyonce's Renaissance album and tour to theaters.
The film will appear in theaters on Thursdays, Fridays, Saturdays and Sundays for around four weeks starting Dec. 1. Tickets will start at $22 for standard showtimes, with premium large format screens like IMAX and Dolby Cinema available for a higher fee. The movie will screen at a variety of theaters nationwide, including AMC, Regal and Cinemark, Cinepolis, Cineplex and Harkins.
Beyonce's appearance on the film calendar is a much-needed boon for the North American box office. The film industry is still in recovery mode after the pandemic and has seen fewer releases in recent years, leading to fewer ticket sales.
"Early December is a historically slow period between the Thanksgiving and Christmas corridors with very few high-profile new releases," said Shawn Robbins, chief analyst at BoxOffice.com. "This year's slate during that time was certainly a bit thin before Beyonce staked her claim. There's no question, having her fans come out to support her music and artistry on the big screen will fill some of that gap and continue to change how the industry approaches rare but occasional dead zones on the calendar when Hollywood studios aren't releasing blockbusters."
So far, the big releases during the month of December are dominated by three Warner Bros. titles — "Wonka" hits theaters Dec. 15, followed by "Aquaman and the Lost Kingdom" on Dec. 20 and "The Color Purple" on Christmas Day.
Those offerings give Beyonce's movie plenty of room to run at the box office.
"The cultural impact, brand enhancement and, of course, revenue-generating potential is clearly a motivating factor in the decision to go with a theatrical rather than a streaming release," said Paul Dergarabedian, senior media analyst at Comscore.
It's unclear what Beyonce's film could open to in December, as tickets just went on sale Monday. Industry observers expect Swift's concert film, due in theaters Oct. 13, will open to at least $100 million in ticket sales.
By the end of Swift's international tour dates next year, music analysts predict the star's Eras Tour will have generated between $1 billion and $1.4 billion in revenue. Beyonce's tour looks to top out just above $560 million.
What's in it for AMC?
The Beyonce and Swift releases also are part of AMC's new revenue-generation strategy. The theater chain, in bypassing the traditional studio release model, will pick up distribution fees as well as share in the ticket sales.
AMC, in particular, needs this kind of revenue, as the company continues to spend more on film-licensing costs and theater rentals than it makes in ticket and concession sales. In fact, the company only recently posted a profit during its second quarter this year, having generated net income of just $8.6 million.
"This is another savvy move by creators and exhibitors that bolsters the bottom line for movie theaters at year's end while uncovering more unexplored potential from specialty event releases," Robbins said.
AMC Entertainment's YTD stock performance.
AMC, and other movie theater chains, will also benefit from elevated concession sales as moviegoers load up on popcorn and soda for these concert films. AMC is already promoting collectible Taylor Swift popcorn tubs for $14.99 and cups for $11.99. No doubt, Beyonce-themed items will be revealed soon.
"The theaters have been playing live or recorded concerts for over a year now and began talking about alternative content possibilities two years ago, but the scale of Taylor Swift and Beyonce is certainly bringing more attention to this strategy," said Alicia Reese, analyst at Wedbush. "It will be difficult to find other acts of this scale, but there are plenty of artists who will be touring next summer and theaters will likely be reaching out to schedule concert films to fill any gaps in the 2024 summer release slate."
Those gaps have come from production delays related to the two Hollywood labor strikes. The box office saw several titles leave for 2024 release dates and its still unclear where currently scheduled titles will wind up once the dust settles.
Post source: cnbc