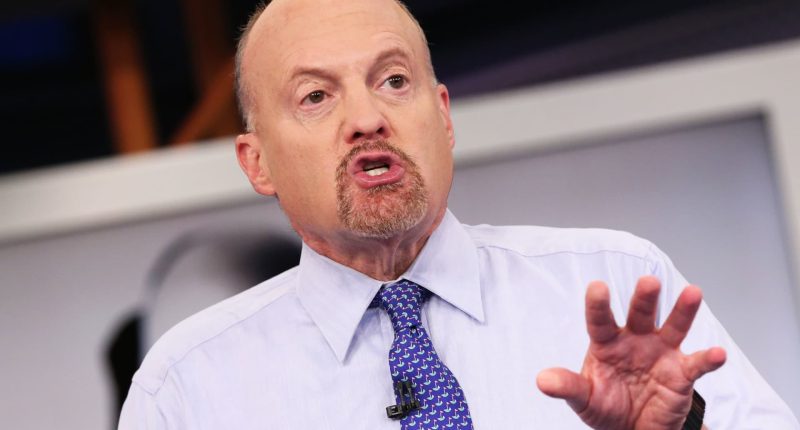 CNBC's Jim Cramer on Monday said that it's time to acknowledge that his group of Big Tech FANG companies — the acronym for Facebook parent Meta Platforms, Amazon, Netflix and Google parent Alphabet that was first coined by the "Mad Money" host — aren't infallible market leaders.
"FANG has become worthless as a name, an acronym, an amalgam, because of sheer ennui. Nobody cares anymore, nor should they," he said, adding, "The magic is gone. They've got to play by the rules."
Stocks fell on Monday ahead of a potential interest rate hike from the Federal Reserve and a busy week of earnings, including reports from Meta, Amazon and Alphabet. 
Cramer said that one of his main issues with FANG is that the companies are opaque, which doesn't allow investors to make informed decisions about their stocks. He discussed his concerns regarding each company:
Meta: Investors have no idea how the company is faring due to its lack of communication. But the company's roughly $386 billion market capitalization, which is smaller than it should be, is a reason to own the stock.
Amazon: The stock will go higher if the e-commerce giant lays off even more of its workforce after already cutting more than 18,000 jobs. If the company doesn't take that step, its stock will fall and the company will become unworthy of its $1 trillion market capitalization.
Netflix: While the company is the only name among the group that's doing well, its roughly $157 billion market capitalization means it's too small to matter. 
Alphabet: The Google parent company is largely an advertising business, which has been hit hard by the slowing economy, yet remains unclear about the challenges it's likely facing.
Cramer said that Apple, which in recent years has been added to the original acronym to create FAANG, is a more transparent company with an attractive price-to-earnings multiple. Investors who own the stock should hold on to their shares, he advised.
He added that his thoughts on FANG don't mean that he believes the stocks aren't worth owning. 
"I'm not saying that these companies are unimportant. They're too big to be ignored. What I'm saying is that FANG has worn out its welcome," he said. "You have to make a decision about their worth as enterprises — not based on earnings."
Disclaimer: Cramer's Charitable Trust owns shares of Meta, Amazon, Alphabet and Apple.
Post source: cnbc