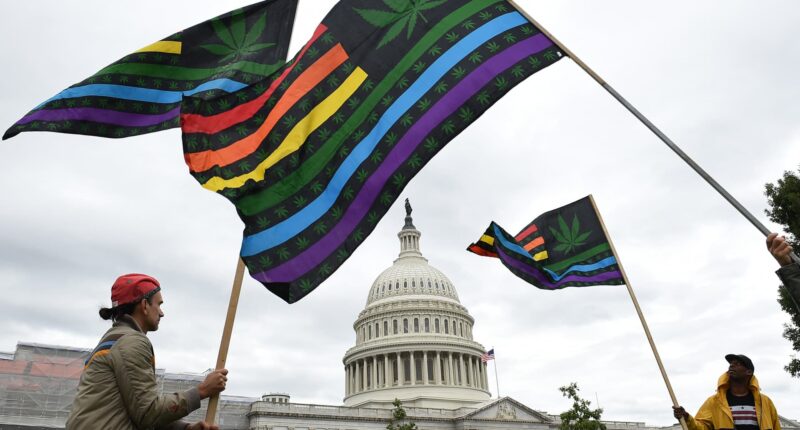 Activists from the DC Marijuana Justice (DCJM) wave flags during a rally to demand Congress to pass cannabis reform legislation on the East Lawn of the US Capitol in Washington, DC on October 8, 2019
Olivier Douliery | AFP | Getty Images
A new bill that aims to give the marijuana industry access to banking services is expected to move forward in the Senate on Wednesday.
The Secure and Fair Enforcement Regulation Banking Act was introduced by a bipartisan group of senators last week. The bill would provide legal protection to banks or other financial institutions that offer services to state-legal marijuana businesses.
The Senate Banking Committee will mark up the bill Wednesday, and the panel is expected to vote to advance it to the full chamber's floor.
The bill is being led by Sens. Jeff Merkley, D-Ore.; Steve Daines, R-Mont.; Kyrsten Sinema, I-Ariz.; and Cynthia Lummis, R-Wyo., as well as Majority Leader Chuck Schumer, D-N.Y.
Senator Jeff Merkley, a Democrat from Oregon, speaks during a news conference at the U.S. Capitol in Washington, D.C., on Jan. 25, 2020.
Zach Gibson | Bloomberg | Getty Images
"This legislation will help make our communities and small businesses safer by giving legal cannabis businesses access to traditional financial institutions, including bank accounts and small business loans," the senators said in a joint statement.
"It also prevents federal bank regulators from ordering a bank or credit union to close an account based on reputational risk," they added.
Even as 39 states have legalized marijuana for recreational or medical use, the sector has struggled to scale. Marijuana's classification as a Schedule I substance, or one with no currently accepted medical use and a high potential for abuse, along with federal prohibition, pose a risk to banking institutions. This, in turn, has limited access to financing and a broader market.
Moreover, without access to financial services, state-legal cannabis businesses are forced to operate their businesses solely using cash, which can result in robbery, money laundering and organized crime.
Due to the opening of new adult-use markets in individual states, combined U.S. medical and recreational cannabis sales are expected to reach $33.6 billion by the end of 2023, according to analysis from the MJBiz Factbook from industry news outlet MJBizDaily.
The landmark vote Wednesday will mark the first time the Senate has considered the legislation. An earlier version of the bill, the SAFE Banking Act, passed in the House seven times previously but has never advanced through the Senate under both Democratic and Republican control. Late last year, lawmakers excluded it from a $1.7 trillion government funding bill.
The bill may face a tougher path to passage if it ends up before the GOP-controlled House.
"I think it probably passes the banking committee, but I think it doesn't go anywhere in the House," said Ian Katz, an analyst with Capital Alpha Partners who covers banking and financials.
"Republicans seem to be souring on it," he added.
The new bill includes stricter requirements for federal regulators, such as prohibiting them from terminating any marijuana-related accounts without "valid reason," or from denying banking services based on "personal beliefs or political motivations."
Post source: cnbc