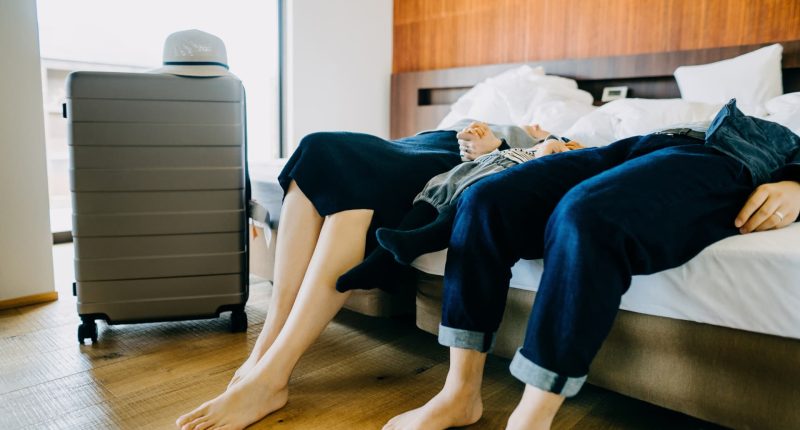 Middle-aged millennials have arrived.
As more millennials — often defined as those born between 1981 and 1996 — turn 40, a generation long defined by youth transitions to a new phase in life.
And they're bringing their tech-savviness, social consciousness and spending habits in tow, which is transforming a travel industry intent on staying ahead of the times.
For starters, millennials are traveling at higher rates than other age groups, edging out the far wealthier baby boomer generation, according to the research company Morning Consult.
"When it comes to nearly all travel behaviors, millennials are the generation most likely to engage — and they do so often," said Lindsey Roeschke, travel and hospitality analyst at Morning Consult. "For example, 18% of millennials have taken three or more domestic flights in the past year, compared to 10% of Gen Xers and 6% of baby boomers."
They are also traveling differently from those who came before them, she told CNBC Travel.
"They see travel as a right rather than a privilege, and consider their travel experiences to be a part of their identity rather than a check on a bucket list," said Roeschke.
Spending, but not splurging
Money worries are causing millennials to delay everything from home and car purchases to marriage.
Yet, they still value "the idea of vacationing over adding a few more dollars to their savings," according to a report from GWI Travel. They are "way out in front of other generations" in deeming vacations to be very or extremely important to them, according to its research.
The data company said that could explain their willingness to spend, but not necessarily splurge, on travel. Millennials are more likely than other generations to pay more for flights, but only one in five say they look for top-of-the-line options when traveling, according to the company's data.
Though many millennials are saddled by student debt and squeezed by rising costs of living, they're still spending to travel — but about a third less, on average, per trip than boomers over the past three years, according the insurance company InsureMyTrip.
What motivates millennials to travel
"Millennials tend to be driven very much by experiences," said Roeschke.
Millennials, along with Gen Zs, are more likely to spend money on experiences than on consumer goods (46% vs. 37%), according to American Express Travel's 2023 Global Travel Trends Report.
With their vacations no longer defined by spring break sojourns or backpacking on the cheap, millennials are seeking trips that focus on mental health and relaxation.  
Compared with older generations, millennials and Gen Zs are prioritizing trips that focus on personal wellness (61% vs. 48%) and staying in hotels with spas and wellness services (60% vs. 43%), according to the report.
Younger people are also more likely to be inspired to travel by movies and TV shows as well as social media platforms such as Instagram and TikTok.
And traveling sustainably is crucial to those 40-something and below.
Some "82% of Gen Z and millennial travelers say they are interested in going on a vacation that has a minimal impact on the environment in 2023, compared to 72% of Gen X and 64% of boomers," said Audrey Hendley, president of American Express Travel.
With finite vacation time, younger travelers are intentional about how they fill their itineraries, she said.
"From eating local foods and engaging in self-care, to shopping at local businesses and visiting the locations of favorite TV shows and movies, personal passions are having a major impact on trip planning," Hendley said.
Where millennials stay
Frederic Lalonde, CEO of the travel app Hopper, said its customers are twice as likely to stay in a home than a hotel.
"It's all driven by our primary users, who are millennials and Gen Z," he said at the Skift Global Forum 2022. "We're now seeing these two generations start to ascend to economic power … theoretically, all Hopper has to do is wait."
Millennials made up nearly half of Airbnb's customers in 2022 — more than the combined totals of Gen Xers and boomers combined, according to the British market research firm YouGov.
Many millennials are now parents and are traveling with their children, said Morning Consult's Roeschke.
Since 2019, Airbnb home rentals increased the most among travelers with children aged six and younger, according to the company.
Not only do Airbnb rentals often have additional bedrooms — ideal for little ones who are fast asleep by 7 p.m. — but some also come stocked with cribs, high chairs and toys.
Hotels: brands and baby items
Hotels are trying to claw back some of that business.
Multinational hospitality companies have launched brands that target millennials — such as Moxy and Aloft by Marriott, Canopy and Curio by Hilton, and Even and voco by IHG, to name a few. The brands appeal to younger travelers through interior decor, wellness services, and even free cocktails.
The exclusive hotel brand Aman is even getting in on the action. The 35-year-old luxury company is set to open Janu Tokyo, the first from its new "sister brand" later this year.
Janu Tokyo will have six restaurants and a 4,000-square-meter wellness center — the largest of any luxury hotel in the city, according to Aman.
Source: Aman Resorts
Janu was created in response to demand from a wider cohort of guests, said company CEO Vlad Doronin. It's got "the hallmarks of the Aman offering in terms of service and excellent design, but with a different pace and spirit," he said in a press release announcing the hotel's opening.
The luxury hotel and resort company Shangri-La launched the millennial-minded Hotel Jen brand nearly a decade ago.
Subsequently, its hotels strived to make "family experiences" a key part of its business plan across its brands, with themed children's rooms and floor pantries stocked with diapers, bottle sterilizers, baby bathtubs and Stokke strollers.
The family pantry at Shangri-La Singapore has a washing machine and microwave, plus strollers, travel cots, high chairs and games for young children.
Source: Shangri-La Limited
The IHG-owned Kimpton group of hotels is also winning over millennials with a strong focus on tech, wellness and animals — "If your pet fits through the door, we'll welcome them in," according to the website.
Kimpton is making a play for young families too, addressing a pain point familiar to those traveling with babies: on-demand refrigerators that are cold enough to safely store breast milk.
Kimpton also partnered with the baby company 4moms to provide infant seats and play yards to guests, and the scooter company Micro Kickboard to help kids go the distance with parents who are still adjusting to the slower pace of family travel.
Post source: cnbc