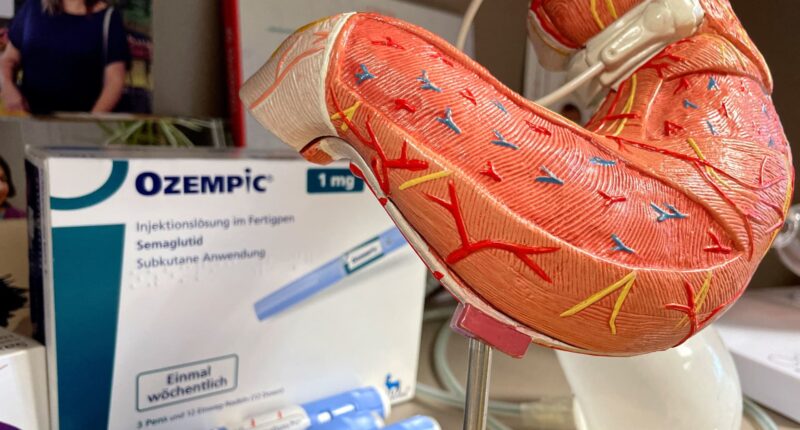 A view of a plastic model of a stomach during an interview with Doctor Thomas Horbach, specialist in surgery, visceral surgery and nutritional medicine on Novo Nordisk, which will start selling its hugely popular obesity drug Wegovy in Germany later this month, in Munich, Germany, July 17, 2023.
Christine Uyanik | Reuters
Drugmakers spent nearly $500 million on advertisements for obesity and diabetes treatments in the U.S. during the first seven months of this year, up 20% from the same period a year ago, according to new data released Friday. 
The data, from advertising analytics firm MediaRadar, demonstrates the rush by companies to capture new customers after months of hype around Novo Nordisk's diabetes drug Ozempic and weight loss counterpart Wegovy. 
Those drugs and similar treatments have soared in demand this year for their ability to help patients lose unwanted pounds. The medicines, known as GLP-1s, mimic a hormone produced in the gut to suppress a person's appetite. U.S. health care providers wrote more than 9 million prescriptions for Ozempic, Wegovy and other obesity and diabetes drugs during the last three months of 2022, up 300% from early 2020.
MediaRadar compiled ad spending from national TV broadcasts, print publications, newspapers and websites and social media platforms from Jan. 1, 2022 to July 31, 2023. 
The top four drugs advertised were Ozempic, Wegovy, Novo Nordisk's diabetes pill Rybelsus and Boehringer Ingelheim's own diabetes treatment Jardiance, which is set to face drug price negotiations with the federal Medicare program. 
Together, those treatments accounted for $358 million, or about three-quarters, of total ad spending for obesity and diabetes drugs during the first seven months of this year, according to the data. 
Spending on Ozempic ads was $120 million during that time period, up 23% from the same period last year.
MediaRadar said in a statement that Ozempic's rise in popularity has had a "positive impact on similar medications." 
"It's a classic case of 'a rising tide lifts all boats,'" MediaRadar CEO Todd Krizelman said in the statement. "As Ozempic's popularity grows, so does the demand for other weight loss and diabetes drugs, especially Wegovy, which has made a significant mark this year, particularly from Q2 onwards."
Wegovy accounted for more than $20 million in ad spending during the first seven months of the year, primarily due to a spike in spending from April to July, according to MediaRadar. 
But MediaRadar noted that Novo Nordisk in May paused some key promotional advertising for Wegovy, specifically local and national TV advertising. 
MediaRadar said most of the spending on the drug was for digital advertising, such as online video. 
Post source: cnbc