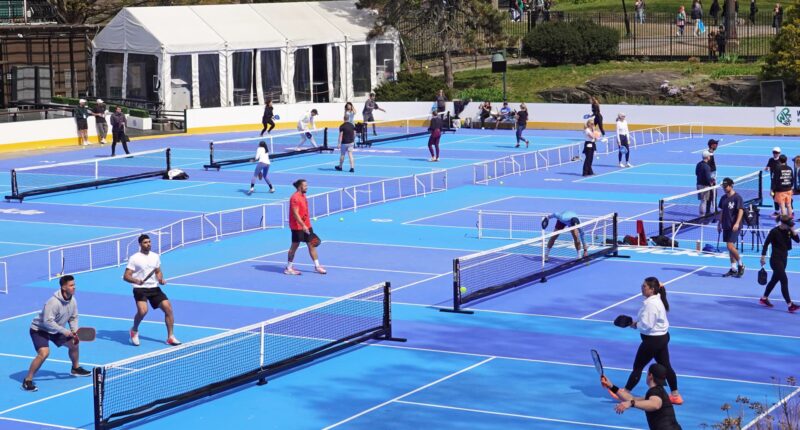 People play pickleball at Central Park in New York City on April 8, 2023.
Wang Fan | China News Service | Getty Images
America's fastest-growing sport is looking to be … quieter?
The governing body of the sport, USA Pickleball, announced on Monday a new initiative to get pickleball to pipe down by investing in changes to the acoustics of the sport. The organization will work with manufacturers and facilities to come up with solutions that will allow the sport to continue its rapid growth.
Pickleball is a paddle sport that combines the elements of tennis, ping pong and badminton. It's played with a plastic ball with holes in it that resembles a wiffle ball. While the sport was created in the 1960s, it recently gained steam during the Covid-19 pandemic, as people looked for ways to get exercise outdoors and also be social.
As a result, courts are popping up all across the country, including even in people's backyards and neighborhoods. USA Pickleball says 130 new locations were added per month in 2022 and estimates another 25,000 courts will need to be built to keep up with demand. Last year, 36 million people played pickleball and the sport has grown 158% over the past three years according to the Sports & Fitness Industry Association.
Yet not everyone has caught pickleball fever.
The pop-pop-pop sound that the sport produces with its rapid-fire paddle play has led to neighborhood quarrels, lawsuits and 911 calls. The cacophonous controversy has even prompted the closure of some courts.
"It's a torture technique," one pickleball antagonist told The New York Times in June.
In the 70 decibel range, sound experts say it's not a dangerous amount of noise but it's about twice as loud as tennis.
USA Pickleball is looking to quiet the commotion — and cultivate good will — by announcing a new "quiet category" for pickleball equipment.
"With the sport's growth, addressing noise concerns is essential to maintain a positive relationship between residential communities and facility operators," USA Pickleball CEO Mike Nealy said in a statement. "By working together with manufacturers and the entire industry, we can develop quieter options that benefit everyone."
Pop goes the neighborhood
The small northern New Jersey town of Haworth experienced a pickleball explosion among its residents during the Covid-19 pandemic. Today, in an attempt to keep the peace amid noise complaints, the town decided to move its pickleball courts.
"Residents showed up at council meetings expressing the noise issue," said Kari Heitzner, co-chair of the town's pickleball club. "Because it's such a popular sport with people wanting to play at all hours of the day, we ultimately decided to move the courts to an area surrounded by woods."
The USA Pickleball initiative aims to help municipalities and homeowners associations seek support navigating the noise and to provide them with remote and on-site evaluations.
It's also helping to promote products that deliver essentially 50% or less of the acoustic footprint.
The organization said it has spent the past 15 months researching and studying the acoustic output of the sport, including by working with acoustic experts.
"I would say that it's probably less than 1% [of people complaining about the noise], but it is a very vocal 1% that do have issues with it. So we do feel the need to address it and make sure that there are solutions," Carl Schmits, USA Pickleball managing director of equipment standards and facilities development, said in an interview.
Paddle racket
The goal is to work with manufacturers during development to prioritize innovation in creating quieter products, in addition to providing resources to municipalities.
Schmits says the organization has tested hundreds of paddles and worked with suppliers on dampening the noise through acoustic fabrics and panels.
Bob Unetich, sound engineer and pickleball player, has been studying this problem for the past eight years.
Unetich, who consults for USA Pickleball, started a company called Pickleball Sound Mitigation to help communities with this growing problem.
He said pickleball paddles vibrate at a high pitch of 1,000 times per second, which is what leads to the pop noise. Humans are sensitive to pop sounds and often annoyed by them, he added.
"I appreciate the problem and frankly wouldn't want to live next door to numbers like 70 decibels over and over and over every four seconds for eight hours a day," Unetich said. "And I'm sure you wouldn't either."
Post source: cnbc