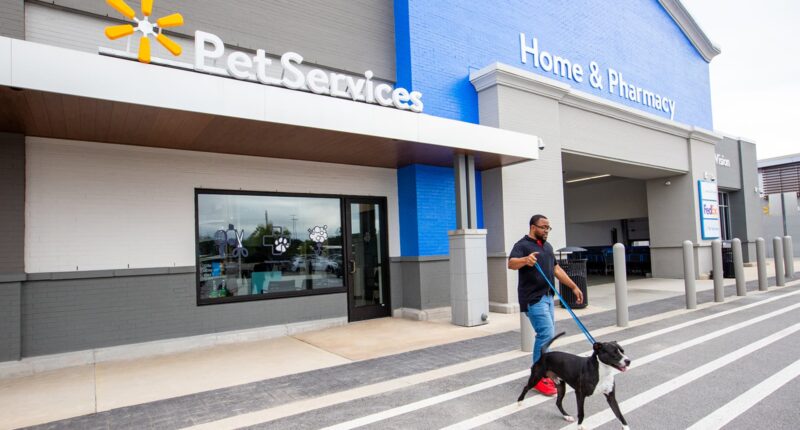 Walmart is piloting a pet services center in a suburb of Atlanta, but plans to open more locations in other parts of the country.
Walmart
Walmart is opening a dedicated pet services center, signaling it wants to be a place that customers turn to for veterinarian visits and dog grooming appointments along with grocery runs.
On Wednesday, the retailer is opening a first-of-its-kind center in Dallas, Georgia, a suburb about 30 miles northwest of Atlanta.
With the move, the nation's biggest grocer is building on its traditional pet business. It has sold pet items for decades, including Ol' Roy, its private label dog food that's named after Walmart founder Sam Walton's English setter.
Yet with the new facility, Walmart will dip its toe into a more lucrative part of the pet industry: health care and other services. The company already stocks top pet medications at its Walmart pharmacies.
Walmart's pet services center will have its own dedicated entrance next to a store. It will carry the Walmart name, but employees of vet care and pet product company PetIQ will staff it. PetIQ has rented space for vet clinics inside more than 65 Walmart stores, after opening its first one in 2016.
The Georgia location will serve as a pilot, but Walmart plans to open more locations, said Kaitlyn Shadiow, vice president of merchandising for pets for Walmart U.S. She declined to say how many pet shops it may ultimately have but said Walmart plans to open more next year, if not sooner.
"We know pet services is an important need for our customers and we want to be able to provide that all in one place," she said. She cited a Morgan Stanley study that found that about 40% of total pet industry revenue is driven by services.
As Americans treat their dogs, cats and other animals like family members, more retailers have chased the expanding pool of dollars consumers are spending on vet bills or fashion-forward leashes or other accessories.
Those include Kohl's, which has started to devote space to pet items in some stores, and Lowe's, which announced it is expanding mini Petco Health and Wellness shops and mobile vet services to more stores after testing the concept.
Walmart is starting to offer pet services as other retailers, including Chewy and Petco, also chase opportunities to offer veterinary care.
Walmart
Consumers in the U.S. spent $136.8 billion on pets last year, according to industry group American Pet Products Association. That huge market includes a long list of expenses, such as food and treats, boarding, dog walking and veterinary care. After pet food and treats, vet care and products are the second-biggest driver of the industry — tallying up to $35.9 billion last year, according to APPA.
As the Covid-induced pet boom recedes and consumers buy fewer pet toys and supplies, Chewy and Petco have both looked to pet health care to drive their futures — especially as those pandemic pups and other pets grow up.
Retailers consider the pet space, much like items for kids, an attractive area because consumers are usually still willing to spend when their budgets are tight or the economy hits a rough patch, said Anna Andreeva, an analyst for Needham & Company who covers consumer and e-commerce companies including pet specialty retailers.
Yet in the past few months, she said, cracks have emerged in that theory. Petco, Chewy and General Mills, the maker of dog food Blue Buffalo, have warned that some pet owners are becoming more price-sensitive and even trading down to cheaper pet food as they deal with inflation.
For Walmart, that cost-conscious mentality could bring a competitive advantage — much like the one its grocery business has enjoyed over the last year due to its low-price reputation.
What Walmart's pet center will provide
At the pet services center, Walmart will offer a range of vet and grooming services, including wellness exams, nail trims, teeth cleaning, hair cuts and more. The services range in price, from $15 nail trims to $25 rabies shots to $97 for a vital package. That visit includes a physical exam, several vaccines and a parasite screening.
The pet store will provide vet services for dogs and cats. Grooming is available for dogs. Walmart said it has no plans now to add other animals.
Along with opening the center, Walmart started rolling out a new offering this week that can automate customers' frequent orders, including pet food and supplies. The subscription-based approach, which requires no fee, rips a page from the playbook of direct-to-consumer pet specialty retailer, Chewy. The company has grown its business with the help of Autoship, which allows customers who set up repeat deliveries of items to get a discount.
The company's membership program, Walmart+, has also gotten some pet-related perks, including a free one-year membership to pet telehealth service Pawp.
Yet as it moves further into the pet space, Walmart will have to prove it can gain traction in a new business. The company has made a similar push to offer lower-priced doctor, dentist and therapy appointments to people through Walmart Health. It opened its first health clinic in 2019 in the same store in Dallas, Georgia, where it will now test pet services.
The clinics speak to the challenge of entering a new business. Walmart's health clinics have opened slowly, and the expansion effort has been complicated by frequent turnover of top leadership.
By the end of 2023, Walmart expects to have a total of 48 health centers in Georgia, Arkansas, Illinois, Texas and Florida — only about 1% of Walmart's more than 4,500 U.S. locations.
With the proximity of Walmart's pet service center to its store, the retailer will try to nudge customers to other purchases, as well. The pet center will have a small amount of retail space, where Walmart initially plans to sell its own private label pet brands.
And while only service pets are allowed inside Walmart stores, customers who drop off a pet for a vet visit or grooming service can leave their dog at the kennel overseen by PetIQ employees while they swing into the store for groceries and other items, Shadiow said.
Post source: cnbc