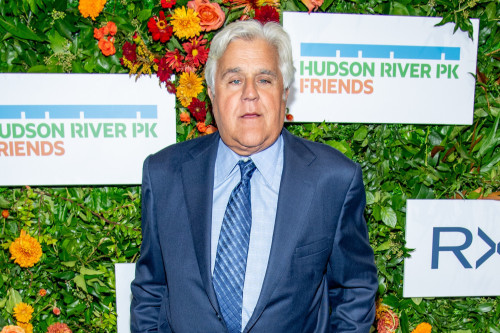 Jay Leno says that crashing a motorcycle is "better than slipping in the bathtub" at his age.
The 72-year-old TV star was l was riding a vintage motorcycle in Las Vegas on January 17 when he pulled into a parking lot and was taken out by a piece of wire that had been strung across the roadway without any sign hanging off it to draw attention to it and left with multiple injuries – including a broken collarbone, two broken ribs and two cracked kneecaps – but won't let the incident put him off riding again because men over the age of 40 "cannot be taught anything."
He told TMZ: "People are telling me to stop when you're 72, but crashing a motorcycle is better than slipping in a walk-in bathtub. Once men get past the age of 40 you can't teach them anything!"
Despite the injuries he sustained in the accident, the outlet went on to claim that the former 'Tonight Show' will is "not going to sue whoever strung up the wire" because he is not the "type of guy" for lawsuits.
The injuries come in the wake of him being left with third-degree burns over his upper body and part of his face when a fire broke out during an automobile repair he was carrying out last November.
Referring to the 2022 fire in an interview with the Las Vegas Review-Journal, he said: "That was the first accident. OK? Then just last week, I got knocked off my motorcycle. So I've got a broken collarbone. I've got two broken ribs. I've got two cracked kneecaps. But I'm OK! I'm working.
"I turned down a side street and cut through a parking lot, and unbeknownst to me, some guy had a wire strung across the parking lot but with no flag hanging from it.
"So, you know, I didn't see it until it was too late. It just clothesline me and, boom, knocked me off the bike."
Post source: Female First