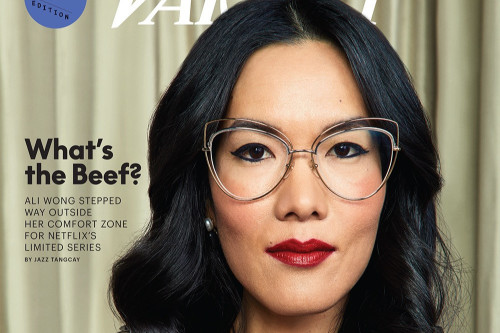 Ali Wong has branded David Choe's controversial past behaviour "really upsetting".
The actress, 41, starred alongside David, 47, in Netflix's hit series 'Beef' and following its release a 2014 clip from the actor's now-defunct podcast resurfaced that showed him talking about sexually assaulting a massage therapist.
David apologised for the comments at the time, claiming that the anecdote was a fabrication for the sake of the podcast, and Ali has now told Variety when asked about the scandal: "The behaviour just described in that is really upsetting.
"We put out that statement and for now, I just feel like it's time for me to listen and not rush to say anything more on the matter."
Ali was referring to a statement released through Variety on 21 April by 'Beef' showrunner Lee Sung Jin and stars Ali and Steven Yeun, 39, which called David's massage story "undeniably hurtful and extremely disturbing".
It added: "The story David Choe fabricated nine years ago is undeniably hurtful and extremely disturbing.
"We do not condone this story in any way, and we understand why this has been so upsetting and triggering.
"We're aware David has apologised in the past for making up this horrific story, and we've seen him put in the work to get the mental health support he needed over the last decade to better himself and learn from his mistakes."
David has said: "If I am guilty of anything, it's bad storytelling in the style of douche. "Just like many of my paintings are often misinterpreted, the same goes with my (podcast.)
"The main objective of all of my podcasts is to challenge and provoke my friends and the co-stars on the show."
Ali also told Variety she was a "cautious" driver despite her crazed road-rage car chase scene in 'Beef'.
She said: "I'm cautious, even more now after the show because I fictionally lived through that whole experience and where things could go. It is not worth pushing for whoever had the right of way.
"I don't want to end up having an affair with a stranger's brother, and then be in a shootout and crash my car!"
Post source: Female First