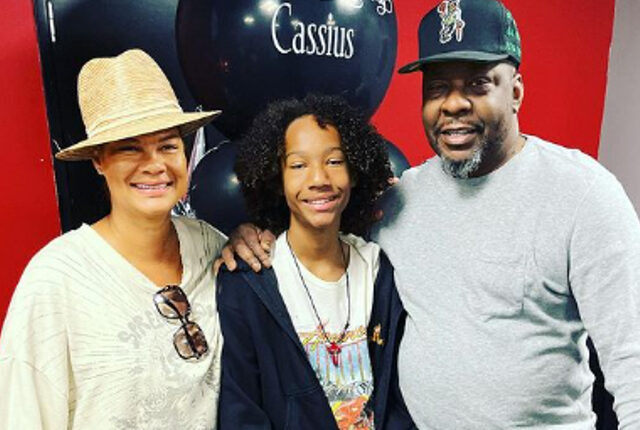 Alicia Etheredge and Bobby Brown celebrated their son Cassius Brown's fourteenth birthday on Tuesday (May 31). The celebrity parents gave their teen a cool birthday bash.
"Wishing my big boy #Cassius a very happy 14th Birthday," Alicia shared on Instagram. "You know how much mommy and daddy loves you," the doting mom wrote to her son.
"[We love you] to the moon and beyond," Alicia continued. "Proud and grateful for you," the celebrity mom exclaimed when writing to her son. "Thank you to all our family and friends for joining us and making these memories forever!"
It is hard to believe that Alicia Etheredge and bobby Brown's son is fourteen years old. Many remember when Alicia gave birth to Cassius in 2009. "Wow," one fan exclaimed when commenting on the youngster's birthday. "Time flies." Dozens agreed with the sentiment with one Instagram follower saying, "What? Fourteen already?"
Cassius is the oldest of Alicia Etheredge and Bobby Brown's three kids together. Bobby also has adult children from previous relations. The Browns were featured in their own reality series, Bobby Brown: Every Little Step, last year. Alicia shared how she navigates the blended family aspect during a recent interview with BET.
"Being supportive [and] listening is very important," Mrs. Brown shared when speaking on the keys to her successful marriage. "Supporting each other has been a natural evolution for Bobby and I since we started off as friends and being there for one another through tough times," Alicia explained.
"Also respecting personal space when it comes to being your individual self is really important cause you don't want to feel lost in so many relationships you have to balance," Etheredge-Brown added.
One of the main purposes of Bobby Brown: Every Little Step was to feature Bobby's evolution when preparing to get back into the studio to make another album.
"My intentions are to be better in life, and everything I do now is for the future of my family," the celebrity father shares on the show. "So I need to conquer my demons and overcome all of the grief and stay healthy and get back to work so I can show my kids an iconic performer."
Bobby Brown has invested his time an energy into entrepreneurial efforts in addition to his music. Fans can watch Season 1 of Bobby Brown: Every Little Step on A&E.
Photo: Alicia Etheredge-Brown/Instagram