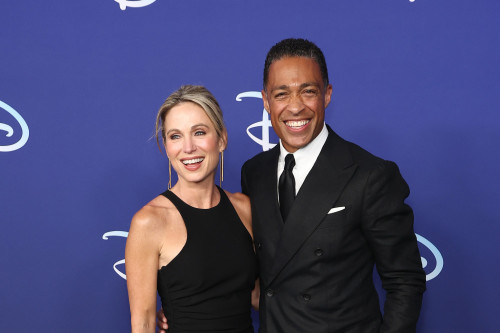 Amy Robach and T.J Holmes are reportedly set to leave 'GMA 3 following their affair scandal.
The TV stars – who were married to Andrew Shue and Marilee Fiebig respectively – were suspended from their roles on the daytime news programme after their affair was exposed in November and are now said to have "signed their exit agreements", which reportedly include "compensation packages" from the ABC network.
A source told ExtraTV: "They have not finished mediation — but yes, that will be the conclusion."
Despite the controversy surrounding the situation, Amy is said to be "in love" with her co-star and has "no regrets" over the way things have turned out.
A source said: "It's not a fling and they are seriously in love, and they will be fully open about their relationship." Amy has no regrets. She wants to keep her job, but even if she loses it, she's in love." ABC is putting resources in so there are no surprises and they have all the information they can before deciding how to proceed."
Earlier this month, Marilee alleged through her divorce lawyer that her "sole focus" had been on Sabine throughout the ordeal.
Attorney Stephanie Lehman said: "During the holiday season and in light of the challenging times, Marilee's sole focus has remained on the overall best interest of her 9-year-old daughter. To that end T.J.'s lawyer and I have been working together to move their divorce forward privately, expeditiously and as amicably as possible.
"Notwithstanding, we continue to be disappointed by T.J's lack of discretion, respect and sensitivity toward Marilee and the party's daughter. Marilee has been touched by the outpouring of support and looks forward to a new beginning in this new year."
The CNN host – who also has daughter Brianna and son Jaiden with ex-wife Amy Ferson – was spotted on a date at a Manhattan bar with Amy in
December is yet to speak publicly about his supposed romance and although the pair were placed on hiatus from their TV roles amid the
speculation, a source insisted earlier this month that the "are still very much together."
In an email sent to employees at ABC News and obtained by E! News, president Kim Godwin urged staff to "focus their energy" onto their day
jobs as usual.
Post source: Female First