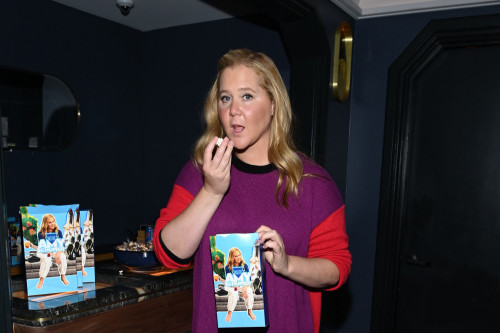 Amy Schumer has hit out at trolls who mocked her over her looks while clarifying the joke she made about Nicole Kidman at the 2023 US Open.
The 'Trainwreck' star, 42, sparked a huge backlash when she shared a photograph of 'Big Little Lies' star Nicole, 56, watching tennis on September 10 in New York and implied she looked like a robot by captioning the snap: "This how human sit."
She has now said in an Instagram post about the controversy: "Okay so the joke I was making was the ways he was posed didn't seem like how a human sits.
"I was not making fun of how she looks. Nicole Kidman is beautiful and one of the most incredible actors of all time.
"I hope everyone is okay and takes a deep breath including all of the think pieces written on this. You guys good?
"To all of the people who commented on me. I'm so sorry I'm not prettier. Please forgive me.
"I apologise. It wasn't even a slow news day. North Korea and Russia are getting too close for comfort. There are deadly storms sweeping our world and a man was convicted of rape."
Amy then urged everyone to "breathe y'all" before saying she forgives the people who have written "hateful things" on her page – admitting she also likes "hot goss".
Amy previously apologised for her post about Nicole – in a post in which she slammed Ashton Kutcher and Mila Kunis.
In a now-deleted Instagram post shared on 11 September, Amy
mocked the support letters the A-list couple wrote in defence of their former 'That '70s Show' star Danny Masterson, who was convicted of rape in May.
Amy said: "I want to apologise to all the people I hurt posting a photo of Nicole Kidman and alluding to her being an alien.
"I will be asking the cast of 'That '70s Show' to write letters advocating for my forgiveness. #takingtimetoheal."
Amy's since-deleted apology was shared by fans on social media.
It referenced the backlash facing Ashton, 45, and Mila, 40, for supporting Masterson before the disgraced actor, 47, was sentenced to 30 years to life in prison for two rapes, the couple praised him in letters to the judge.
Ashton said in his note: "As a friend, Danny has been nothing but a positive influence on me."
His wife hailed Masterson's "grace and empathy" and said: "Danny has consistently displayed a profound sense of responsibility and care for those around him."
After the letters went public, the duo issued a clarification for their actions on Instagram, with Mila saying: "We support victims. We have done this historically through our work and will continue to do so in the future."
Post source: Female First