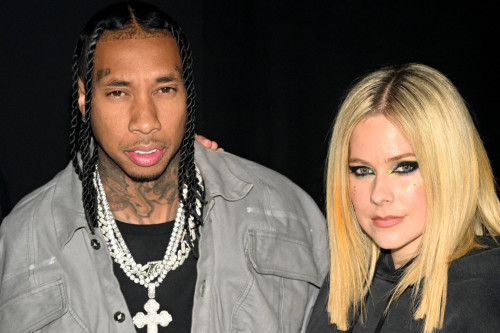 Avril Lavigne and Tyga are said to be "very into each other" – but still "not exclusive".
The 38-year-old 'Sk8er Boi' singer broke up with her singer fiancé Mod Sun, 36, in February after a two-year relationship, with her romance with rapper Tyga, 33, confirmed earlier this month.
A source told People about their romance, which has seen Tyga – real name Michael Ray Stevenson – give Avril a custom $80,000 diamond chain: "They're very into each other."
But they added about the couple taking things slowly despite the rapper's bling gift: "They're still not exclusive and just getting to know each other. They're taking things very slowly to be on the safe side and really get to know each other before diving into something serious.
The insider also said the pair are "spending a lot of time together" as Tyga gets set to make new music.
Avril was seen wearing Tyga's $80,000 gift in Los Angeles last week, which was apparently given to her several weeks earlier.
Jeweller Eric Mavani, who has also made a custom necklace for Kim Kardashian, revealed the rapper had asked him to create the sparkly diamond chain for Avril, and it features 50 carats of white diamonds, black diamonds and pink sapphires.
It also has Avril's name and the letter 'A', along with skulls and the engraving: "Made for Avril Lavigne" on a tag at the back.
Mod – real name Derek Ryan Smith – has admitted he has felt "broken" since his split with Avril.
The performer said on his Instagram account at the end of February about his pain over their break-up: "In 1 week my entire life completely changed. I just know there's a plan for it all. I'll keep my head up and always listen to my heart, even when it feels broken."
He signed off the line with a broken heart emoji before adding: "Being surrounded by love every night on tour has been an absolute blessing.
"I have the best friends in the entire world, thanks for always having my back. See you on stage."
He broke his silence over the end of his romance with Avril after her representatives confirmed their engagement was over.
A representative for Mod then said: "They were together and engaged as of three days ago when he left for tour, so if anything has changed, that's news to him."
They also insisted at the time Mod would be continuing with his tour, adding: "The show will happen tonight and tomorrow and for the rest of the tour."
Mod and Avril's romance had been on the rocks for months, according to TMZ, and the pair had previously broken up before reuniting.
Sources have insisted the split has nothing to do with cheating.
The news their engagement was off made headlines less than two days after Avril sparked rumours that she was dating Tyga, when they were spotted hugging as they left a Nobu in Malibu, California.
Mod and Avril got engaged in Paris in March 2022 after dating for more than a year, with the singer saying online after accepting the rapper's proposal: "Yes! I love you forever."
Mod responded: "Love u so much! Forever n ever my angel."
Post source: Female First