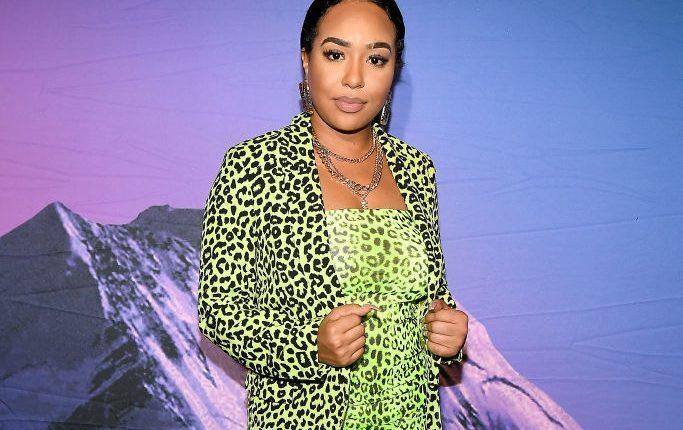 B. Simone is under fire once again, this time, for allegedly trying to monetize her grieving journey.
The internet personality is no stranger to controversy, and now, she's being criticized for sharing a link to her close friends' section on Instagram that's behind a paywall. Simone posted a message this week revealing that she will be using that section of her social media page while she grieves the loss of her friend, Jacky Oh.
"If your not on my close friends your not going to see much of my life during this time," a screenshot from her Instagram Story reads. "Close friends i love you … thank you for being a safe space."
B. Simone didn't explicitly say that access to her close friends would mean a look at her grieving Jacky Oh, but all things considered, it's not that hard to draw the conclusion.
Folks who saw Simone's advertisement immediately took to Twitter to criticize the comedian, wondering why she thinks it's okay to profit off of her friend's death–even if she doesn't say so outright. On the other hand, some of B. Simone's fans got to defending the online personality, insisting her close friends is something she's advertised for a long time and this isn't anything new.
She was also seemingly defended by the cohost of her "Know For Sure" podcast, Megan Ashley, who wrote amidst the controversy;
"I love God, but sometimes loving his ppl is hard as hell! I'm so sick of the devil and the pppl being used by him. It's sick"
Jacky Oh passed away last week for reasons not yet revealed to the public. According to reports from E! News, Miami police were dispatched to a local hotel regarding an unresponsive female on May 31.
"She was transported by Miami Fire Department to Mercy Hospital where lifesaving efforts were conducted," the Miami Police Department's Public Information Officer stated, "but unfortunately, she was pronounced deceased at the hospital."
Jacky Oh was the romantic partner of comedian DC Young Fly and a former cast member of the Wild 'N Out. She shares children Nova, 6, Nala, 2, and Prince'Nehemiah, 10 months, with DC.


Post source: Bossip