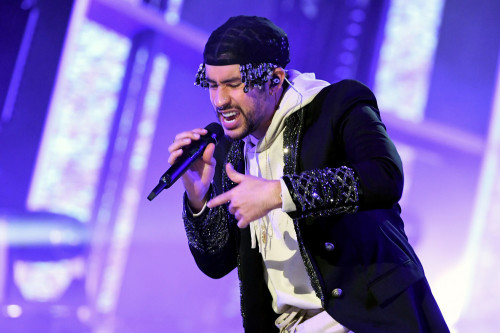 Bad Bunny insists he doesn't need to "clarify" to anyone if he's dating Kendall Jenner or not.
The 29-year-old rapper, actor and occasional WWE wrestler refuses to confirm if he's romancing the 27-year-old reality star after they have been spotted together in public multiple times this year because he keeps his personal life private.
Speaking to Vanity Fair magazine, he said: "I'm not really interested in clarifying anything because I have no commitment to clarify anything to anyone.
"I am clear and my friend Jomar is clear and my mother is clear.
"They are the only ones to whom I have to clarify anything.
"As for Juliana Dominguez from Mississippi" – a random fan's name, I'm pretty sure – I have nothing I need to clarify to her. Never. About anything."
The 'Where She Goes' star insists that just because he is a celebrity, it doesn't mean he doesn't have the right to a private life.
Bunny added: "There are people who say that artists have to put up with it.
"I don't have to accept anything and everything because I wanted to be an artist. At the end of the day, you listen to me because you want to. I don't force you to."
Speaking on the rumours previously, he told Rolling Stone magazine; "I know something is going to come out. I know [people are] going to say something. People know everything about me, so what's left for me to protect? My private life, my personal life."
Asked if there is anything he wants to clarify about his relationship status and romance with Kendall, the 'Where She Goes' hitmaker insisted he wants to keep some parts of his life private.
He added: "That's the only answer. In the end, the only thing I have is my privacy."
When it comes to the huge interest in his personal life, Bunny – whose real name is Benito Antonio Martínez Ocasio – acknowledged that his fans will "always" be keen to "know more".
He said: "I keep living. Fans are always going to want to know more, but I don't focus on that. I'm always going to keep living my way."
Post source: Female First