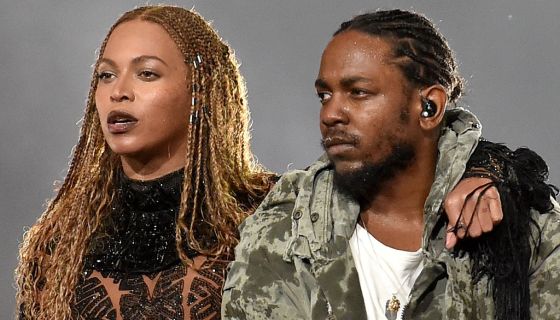 America… America has a remix! Ready your running man! Beyoncé just blessed us with a remix of "America Has A Problem" with Kendrick Lamar.
The queen of surprise digital drops did it again! On Friday, May 19, she released a new version of Renaissance fan favorite. This time she reunited with Kendrick Lamar. "Freedom" fans, come get y'all juice!
Kendrick hit the track running with a mile-a-minute flow. His super quotable wordplay already launched countless social media posts and captions.
"I'm an honorary Beyhive

Let's see why them diamonds don't be fly, they all CGI

You better get it off your chest like breast reduction

If she stressed over you, she stressed for nothin'"
The Mr. Morale & the Big Steppers rapper dropped some timely bars about the wave of AI infiltrating music. He went high-tech for the face-swapping visuals for "The Heart Part 5." However, Kendrick is still incomparable to computers.
"Hold up, wait a minute

Even AI gotta practice clonin' Kendrick

The double entendre, the encore remnants

I bop like tin men, the opps need ten men"
This is the third album in a row that the Grammy winners collaborated together. Kendrick first brought the heat to Beyoncé's "Freedom" on her 2016 Lemonade album. Then their epic BET Awards performance shut the stage down with flood and fire.
In 2019, Bey and Kendrick floated on "Nile" for The Lion King: The Gift. Their vocals blended into sonic serenity again. The mellow track transcends the diaspora, claiming connections to both Bey's spiritual side and African ancestry. Fortunately, the dynamic duo is back to making magic.
"America Has A Problem" Gets A Second Life During The Renaissance World Tour
Although it's nearly impossible for Beyoncé fans to pick just one favorite from her latest album, there's something addictive about "America Has A Problem." Bey's floated over the nostalgic beat sounds like an audible cloud of disco dust.
Early footage from the Renaissance world tour only made it more popular. Since the first show in Stockholm on May 10, clips of Beyoncé's performances instantly went viral. The high-energy choreography and stunning visuals (finally!) made "America Has A Problem" an even bigger hit.
What do you think of Beyoncé & Kendrick Lamar's "America Has A Problem" remix?


Post source: Bossip