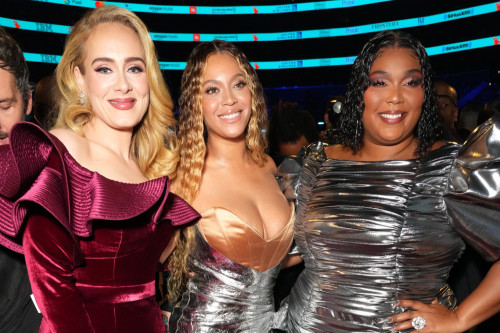 Beyonce made history when she set a new record for most Grammy Award wins on Sunday (05.02.23).
The 41-year-old singer had started the day three victories behind composer Sir Georg Solti – who secured his 31st Grammy in 1997 – but victories in the Best R+B Song, Plastic Off the Sofa', Best Song Written for Visual Media, and Best Traditional R+B Performance categories saw her equal his haul, and she went one better when 'Renaissance' won Best Dance/Electronic Recording.
Beyonce – who also has the joint most Grammy nominations alongside husband Jay-Z with 88 each – said: "I'm trying not to be too emotional. I'm trying to just receive this night. I wanna thank God for protecting me.
"Thank you, God. I'd like to thank my Uncle Jonny, who's not here but he's here in spirit. I'd like to thank my parents — my father, my mother, for loving me and pushing me.
"I'd like to thank my beautiful husband, my beautiful three children who are at home watching. I'd like to thank the queer community for your love and for inventing the genre. God bless you. Thank you so much to the Grammys."
Elsewhere at the ceremony, there were surprise wins in most of the major categories, with Harry Styles beating the likes of Beyonce, Adele, Kendrick Lamar and Coldplay to Record of the Year for Harry's House, and Bonnie Raitt triumphing in Song of the Year.
The 73-year-old star was stunned by her victory.
She said: "I'm so surprised, I don't know what to say.
"I don't write a lot of songs but I'm so proud that you appreciate this one. I'm totally humbled."
Lizzo won Record of the Year for 'About Damn Time' and after dedicating her win to the late Prince, she heaped praise on fellow nominee Beyonce.
She said: "Beyoncé, in the 5th grade I skipped school to see you perform. You changed my life. The way you made me feel, I was like, 'I want to make people feel this way with my music.' So thank you so much Beyonce. You clearly are the artist of our lives!"
Meanwhile, Bad Bunny opened the show with a lively performance paying tribute to his native Puerto Rico, while other notable performances included a Motown medley from Stevie Wonder, Smokey Robinson and WanMor, who were joined by Chris Stapleton on guitar, an explosive rendition of 'Unholy' from Sam Smith and Kim Petras after they had won the Best Pop Duo/ Group Performance accolade, and a hip-hop tribute that spanned over 15 minutes and saw more than 30 artists take to the stage at the Crypto.com Arena in Los Angeles.
In what has already been described as one of the best ever performances at the event, the likes of Salt-N-Pepa, LL Cool J, Public Enemy, Run DMC, Queen Latifah, and Busta Rhymes celebrated the 50th anniversary of the genre.
Grammy Awards 2023 selected list of winners:
Record Of The Year:
'About Damn Time' — Lizzo
Album Of The Year:
'Harry's House' — Harry Styles
Song Of The Year:
'Just Like That' — Bonnie Raitt, songwriter (Bonnie Raitt)
Best New Artist:
Samara Joy
Best Pop Solo Performance:
'Easy on Me' – Adele
Best Pop Duo/ Group Performance:
'Unholy' – Kim Petras and Sam Smith
Best Pop Vocal Album:
'Harry's House' — Harry Styles
Best Country Album:
'A Beautiful Time' – Willie Nelson
Best Rap Album:
'Mr. Morale + the Big Steppers' – Kendrick Lamar
Best Dance/Electronic Music Album:
'RENAISSANCE'— Beyoncé
Best Alternative Music Album:
'Wet Leg' — Wet Leg
Cool It Down — Yeah Yeah Yeahs
Best Rock Album:
'Patient Number 9' – Ozzy Osbourne
Best R B Album:
'Black Radio III' – Robert Glasper
Post source: Female First