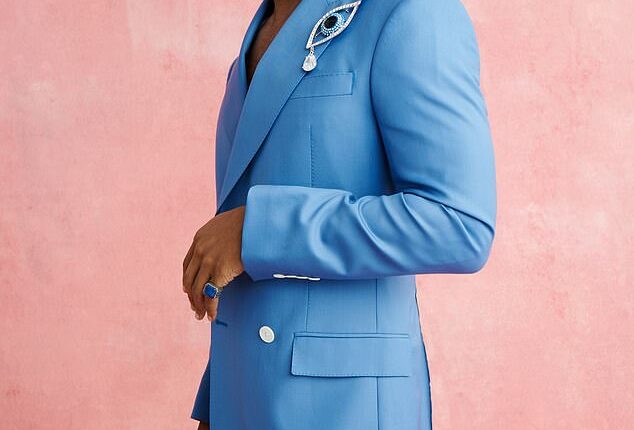 We talk glibly about life journeys — the trope has become a reality TV cliché — but the one Strictly professional dancer Johannes Radebe, has made, both figurative and literal, is extraordinary.
Growing up as a gay child in a dirt-poor South African township, young Johannes had a penchant for heels and feathers. 
Against all odds, he started dance classes, aged seven, in a concrete-floored recreation centre in the macho mining community where he was raised.
His philandering alcoholic father died of TB when he was 14. So Johannes's role models were adoring females — grandmother, aunt, sister and his hardworking mum Jacobeth, a cleaner — who counterbalanced the bullying he endured at school for being a 'sissy boy' with unconditional love.
His route to Strictly Come Dancing was a truly circuitous one, but in 2018 he joined the show's team of professional dancers.
Johannes Radebe joined the Strictly Come Dancing team of professional dancers in 2018
Now, with the latest series launching on Saturday, Johannes has published a memoir, Jojo: Finally Home. 
In it, he discloses that he never officially 'came out', even to his adored mum, until 2021 when he was partnered with Bake-Off winner John Whaite in Strictly's first male same-sex pairing.
Their on-screen chemistry was such a palpable statement of their sexuality that Jacobeth, along with the show's nine million viewers, could no longer ignore it.
'I think it was my moment to say, "I'm tired of the shame. I want to get rid of the stigma". 
'I remember my mum asking me before the show: "Who is your partner?" I pretended I didn't know, but of course I knew exactly who he was.
'I was just waiting to see how it would land. Then I said, "Actually I'm dancing with John". Mum said, "Excuse me, John is a man?" and I said, "Yah."' He giggles.
'Then something happened that was quite beautiful. I'd been unsure about doing that show. At first I refused. I had to be persuaded. Then Mum said, "Open heart. Open mind. I hope you give John the best experience."
'That was the only validation I needed from the one person who loved me absolutely.'
Johannes was partnered with Bake-Off winner John Whaite in Strictly's first male same-sex pairing in the 2021 series
He giggles again; unselfconscious, charming. His voice is never more than a cadence away from laughter.
I wonder if his mum had merely decided to be wilfully blind to his sexuality.
'African people are very conservative,' he says, adding that homosexuality is allowed in only 22 of the 54 countries in the continent. (It was not legal in South Africa until 1994.)
'She didn't want her boy to be gay, nor did she have the manual on how to raise a gay son. But Mum never made me feel there was something wrong with me either. She just wanted me to feel happy, secure and protected.
'I've never introduced my mum to a boyfriend,' he adds. 'But I've promised myself that when I do, it won't be a casual hook-up. It will have to be someone special.'
I fell in love with John Whaite. With him it really did feel special 
Is there someone special? 'No I'm single, but willing to mingle.' He laughs. 'I am open to love. That's beautiful to acknowledge now.'
Invariably, Strictly partners make effusive public promises after the show to stay friends for life. 
'It's not always the case that they do,' he says, judiciously. But with Johannes and John, you knew they actually would.
'There are certain people you meet who totally rock your world,' he says. 'I fell in love with John. With him it really did feel special. I've always lifted women dance partners and made them fly.
'No one had ever given that to me until John. And it was lovely because he understood why things were affecting me. We were trolled on social media. All sorts. That we were "disgusting", a "disgrace" and that the BBC was pushing an agenda and I should go back to Africa.
In 2022, Johannes danced with comedian and actor Ellie Taylor, who was constantly making him laugh
'I'd say to John, "Look at this message" and he'd say, "Calm down, babes". He's an activist in my eyes. I applaud his courage. He was liberating.
'And in the end there was far more love for us than hate [the couple made it to the final], but sometimes you can't see the overwhelming good for the naysayers. So for a while I got off social media.'
The following year he danced with comedian and actor Ellie Taylor: 'Was I worried that nothing would ever top John and me? It crossed my mind.
'Of course it wasn't John but I didn't want Ellie to feel second best. But she was God-sent because she made me laugh. Everything had been so intense with John. I was trying to prove myself. It was a fight, let's see how far we can go.
'But with Ellie I could breathe. It was just fun, entertainment. Enjoyment. No pressure.'
Today, glossy and lithe in a black vest and tight jeans, he chats from his publisher's impressive London office with its views through floor-to-ceiling windows of the Thames.
The distance he's travelled from the two-bedroom Apartheid-era breeze-block home in Zamdela where he grew up, sharing a bedroom with his sister and grandmother, is unimaginable.
At school, he was bullied for being different: 'They would chase me around with dead birds and when they got hold of me, I'd get a smack across my face. I cried. Always in secret.'
Dancing became both solace and refuge: 'I was in a safe space where even the straight boys styled their hair and looked camp in tight vests and black trousers. 
Queen Camilla is pictured with the late Len Goodman, who appeared as a judge on Strictly Come Dancing from the start of the show in 2004 until 2016
'It was a competitive world on the dance floor and an inclusive one off it. Dancing endeared me to my community.
'The threats were still there but the more I succeeded at dancing, the more I felt acknowledged for my talent rather than taunted for how I spoke and moved.'
He and his dance partner won the Junior National Championships and when he was 13 he went to live with amateur dancer Patricia Paleman and her husband Elvis near Soweto, where new opportunities opened up.
But at his new school he ran the gauntlet of the bullies all over again. 'I was kicked to the ground, my head dunked in a filthy toilet bowl. 
'One boy, Malcolm, walked around with a baseball bat. He called me "moffie" [derogatory slang for a gay man] and said he was coming for me after school to take me out.
'I ran home early from school, to Aunt Patricia, and told her this boy was coming for me. She said, "We'll see about that." She came back to school with me, confronted Malcolm and asked him exactly what he'd said. Before he could answer she'd whacked him across the face. He never touched me again.'
Women were the formative influences on his life: it was his late Aunt Martha, a nurse, who persuaded his mum he must go away to help his dance career.
Martha also gave refuge to the family when his mother temporarily fled her alcoholic husband's infidelity and verbal abuse.
Johannes's relationship with his father was problematic. He recalls in his book how, finding out his dad had a mistress when going to a football match with him as a boy, he tried to scupper their night of passion by getting into bed next to them.
Growing up as a gay child in a dirt-poor South African township, young Johannes had a penchant for heels and feathers. Against all odds, he started dance classes, aged seven, in a concrete-floored recreation centre in the macho mining community where he was raised
'I chose to speak openly about the things that went on because they really hurt me as a young boy,' he says now. 
'Today I have more sympathy because I understand alcoholism is a problem that can rob you of a good life. I forgive my father in a lot of ways.
'There are a lot of things I've let go because he could be loving and I won't forget that. But he was also horrible to my mum and the worst thing for a child is to see your mother hurt.'
When his father died, Johannes became the family's provider. He tried twice to go to university but lack of money thwarted him.
Dance became his sole focus. The pressure to fit in was still immense: he pretended to be straight and dated his dance partner, Thami. 
'Thank God she played along. Of course she knew. We all did!' he laughs. 'I still feel guilty for that, but we are still best of friends.'
The successes grew — he won two South African professional dance championships — but poverty and the need to provide for his mother eroded his wages from teaching dance in Johannesburg.
'It was hard. I lived hand to mouth. I'd work from 8am until 11pm teaching. I couldn't afford to rent a room so often I'd creep into the dance studio when it was shut and sleep there. 
'Sometimes I'd pay a taxi driver to sleep overnight in his 14-seater minibus — instead of outside in the rain.'
Was he aware of his vulnerability? 'Looking back, I think I was strong. You don't want to be out alone at night in the city and I'd come round in my tight black jeans. 
'Some drivers would ask for 30 bucks to sleep in their taxi. I didn't have it. Others were kind and let me sleep there for ten.'
He lived constantly on the cusp of danger. Once he escaped the advances of a predatory white man by fleeing his apartment and vaulting a 6ft-high security wall. 
'I became conscious of how horrible people could be and how quickly they take advantage of you, especially when you're in need.'
He knew, too, that poverty was a hindrance: less able dancers with money could afford the airfare to go to international contests.
Johannes performed on cruise ships for seven years before winning a place on South Africa's version of Strictly in 2014. Four years later, he would appear on the BBC One show
His lucky break came when he landed a cruise-ship gig. For seven years he travelled the world dancing then, in 2014, he landed a place on South Africa's version of Strictly. 
Four years later, via dance show Burn The Floor, he arrived in London, where in May 2018 he became a Strictly pro dancer.
'I lost my mind when I saw Anton Du Beke. The man is a legend,' he says. 
'There was Aljaž Škorjanec, looking cute as always. Janette Manrara who is super talented. Karen, whom I found fierce. Gorka Márquez is one of the most honest and genuine people you will ever meet. Neil Jones, the prankster. Dianne, the happy chick. 
'There was kind Amy and then, lovely Luba Mushtuk but don't mess with her. I felt I knew them long before joining the show.'
A great comfort was meeting fellow South African Oti Mabuse, with whom he could speak his native Sesotho: 'She was the closest thing I had to home and she immediately looked out for me.'
But home, he now feels, is Britain where, untrammelled by prejudice and homophobia, he can be himself. Jojo. Camp as Christmas, as he says. 
There is something utterly endearing about his openness; the way he wears his emotions close to the surface, is moved to laughter and tears.
He is even beloved by our Royal Family. As an ambassador for the Duke of Edinburgh Awards, King Charles invited him to Buckingham Palace to give a speech. 
I lived hand to mouth. Often I'd sleep in the dance studio at night 
His mum and sister Jabulile, visiting at the time, went too; shy Jacobeth in a Victoria Beckham suit her son had bought her for the occasion, proud but overwhelmed.
She was also chilly in the British spring and he recalls with delight how a footman brought her a shawl belonging to the Queen.
There was a second invite from the King: last November Johannes attended a state banquet to honour South African President, Cyril Ramaphosa at the Palace.
He remembers his full 'bum-almost-to-the-floor curtsy,' and his pleasure in the King welcoming him back — 'How did he remember my name or know I'd been before?' — then introducing him to the Queen, a Strictly fan.
I sense this is a crowning moment: Johannes from an impoverished township, embraced and lauded by the Royal Family. 
'I do know the Queen absolutely adores Strictly. What more do you need?' he smiles. 'Then she said she voted for me and Ellie.
'She said, "I used all my three votes on you during the Blackpool week. I didn't want you and Ellie to leave." That set my night.' 
He beams, pauses, then adds: 'I hope she voted for me and John, too.'
Jojo: Finally Home by Johannes Radebe (£20, Hodder Catalyst).