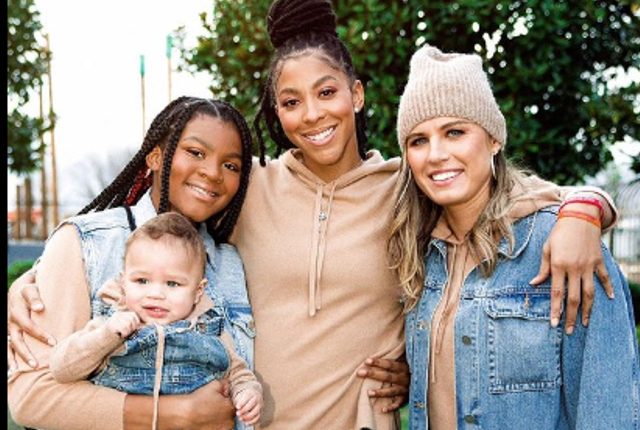 Candace Parker has decided to play for the Las Vegas Aces during the forthcoming WNBA season. The star athlete took to Instagram on Saturday (Jan. 28) to explain the reason behind her decision to move from Chicago.
"My family is my reason and my purpose," Candace told her social media fans. "They have given me the greatest joys I've ever experienced and continue to show me new levels of love and devotion I never knew existed," she shared.
Candace Parker and her wife, Anna Petrakova, welcomed their son, Airr Larry, last February. The little one made Candace's daughter, Lailaa, a big sister for the first time.
"When I made the decision to go to Chicago in 2021, I made the decision to go home and be with my family in the place where it all began," Candace told her social media fans on Saturday. "I am beyond grateful for the opportunity to win a championship in my hometown and parade down the same streets I watched the Bulls parade down as a young girl first falling in love with the game of basketball," Parker shared.
"Throughout her 13 years, Lailaa has always sacrificed for me; always put me first; and always supported me in what I wanted or needed to do, even when it was tough on her," Candace said of her daughter. "I need to be there for my daughter, for my son, for my wife," Candace told her fans.
"I can't be without them for parts of the season when Lailaa is in school and I won't miss her volleyball games or school dances simply because of distance," Parker declared. "Lailaa starts high school in August and I need to be there for her, just as she's been there for me."
Candace went on to tell her social media fans, "After evaluating the landscape together with my family, we've decided the Las Vegas Aces are the right organization for us at this point in our lives. I'm forever appreciative of everyone in Chicago – our fans, teammates, coaches, and ownership. But more than the past two seasons, I'm thankful for the city that raised me, the childhood friends I still have to this day, the teachers I still am learning from, and the moments in time that will forever be in my heart. "While Chicago will always be my home, my family's home is on the west coast."
The upcoming WNBA season will be the association's twenty-seventh. The Las Vegas Aces are presently the defending champions. The new WNBA season begins on May 19, 2023.
Photo: Candace Parker/Instagram