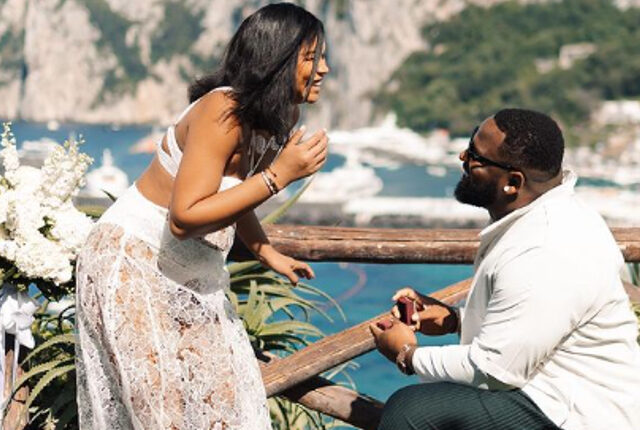 She said yes! Chanel Iman and Davon Godchaux are getting married. She accepted his proposal this past weekend in a ceremony that was simply beautiful.
Davon asked Chanel to journey with him in marriage while they were vising Capri, Italy. The star athlete got on one knee and presented a marvelous engagement ring.
"The blessings keep pouring," Chanel told her social media fans. "Grateful for this new chapter and soon to be married and a forever to go," the expectant model added.
"One thing Chanel is gonna do is be a wife," one fan exclaimed. "Congrats," the supporter added. "Congratulations on the beginning of a beautiful family," another Instagram follower shared.
Chanel Iman and Davon Godchaux announced their expectancy of a child earlier this month. The celebrity couple took to Instagram with maternity photos and more. "Our family is growing and we are so excited to meet our new little one," Chanel and Davon shared in a joint social media post. "God is great," the expectant stars added. "It's all been a blessing."
Davon and Chanel revealed they were preparing for a baby girl two weeks ago. The celebrity couple shared footage from a gender reveal party that featured Chanel with her daughters, Cali Clay and Cassie Snow, in a photoshoot.
"Surprise," Davon and Chanel shared when revealing the gender of their unborn child. "You got your girl," wrote Chanel to Davon who deemed himself a "Girl Dad" in the comments section of the social media post.
Chanel could not get over the extravagant time her soon-to-be husband provided in Italy this past weekend. "Baby moon in Capri turned into the perfect engagement," the expectant model told her social media fans. "I love you so much @chauxdown," Chanel wrote to Davon. "You promised me the world and so far you have given me that and so much more!"
Davon Godchaux and Chanel Iman's daughter will join her daughters with Sterling Shepard and his son from a previous relationship at home. The little one is expected to arrive in coming weeks.
Photo: Tiziano D./Instagram