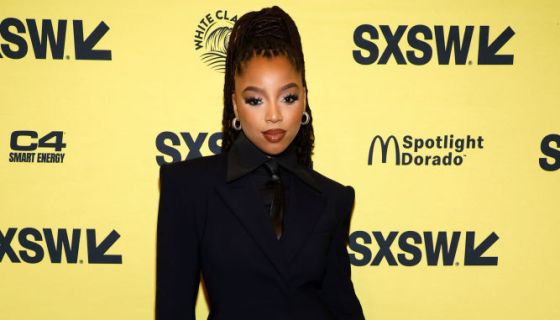 Chlöe Bailey may be confident and sexy in her music and videos, but when it comes to filming a love scene in the new series Swarm she's the total opposite.
The "Surprise" singer will star in Donald Glover's new television project, Swarm, which is part of his eight-figure overall deal with Amazon Prime. Swarm follows a young woman whose obsession with a female pop star turns sinister.
Chlöe Bailey And Dominique Fishback Talk About Filming Swarm at SXSW Premiere
This past weekend it had its world premiere at the South by Southwest Film Festival in Austin, Texas. While at SXSW, cast members Dominique Fishback and Chlöe Bailey were joined by showrunner Janine Nabers and writer Jamal Olori to talk about the series.
Chlöe revealed that she received an email in her inbox about an untitled Donald Glover project and immediately grew excited at the opportunity to work with him as she had been a longtime fan of his work. In an interview with XONecole, she recalled always dreaming of working with him.
"On all of my vision boards, he was on them, which is crazy. I just put that together as I'm saying it out loud. Wow, that's crazy," she said while smiling as she noted the same instance for her co-star Dominique Fishback who plays Dre. "Dom told me the same thing when we were filming it. He was on her vision board for the year before that she got this role, so it's crazy. Everything's meant to be in its right timing."
She also sat down with Deadline Hollywood and gave kudos to cast member Damson Idris for making her feel completely comfortable on set while shooting their love scene.
"As open and as liberal as I am with my body, I was very scared because I haven't had that many partners and I'm not like that, THAT sexual and open. She continued, "Damson made it really comfortable and there were limited people on set, it was a closed set. We were laughing in between and we literally had a bouncy ball in between us and we were making a joke out of it."
Chlöe Will Also Star In The Original Peacock Film Praise This
Chlöe will also star in Peacock's original film Praise This, which is set for release on April 7th. She plays the character Sam who is on the rise to superstardom with the support of her cousin (played by Moxie actress Anjelika Washington) while balancing her love for music and her faith in God.
Bailey expressed that she can relate to the character of Sam as she, too, has learned how to balance her love for music and her faith in God. She noted that her faith and spirituality play a large part in her discernment as she navigates through the industry as a 25-year-old triple threat and future icon.
"I feel like knowing that I can rely [on] and lay all my troubles on God, it helps take the stress and the pressure off of myself. I can only speak for myself personally, but I put a lot of pressure on myself to be perfect and to make minimal mistakes, and things of that nature, but when I relinquish that control and give it up to a higher power, it makes me beat up on myself less, and it makes me trust God's timing."
Bailey's new album "In Pieces" also drops this month on March 31!
Swarm will be available to stream on Prime Video on March 17, and Praise This premieres on Peacock on April 7th.
Check out the trailers of Swarm and Praise This below. Let us know in the comments if you'll be tuning in to watch!


Post source: Bossip