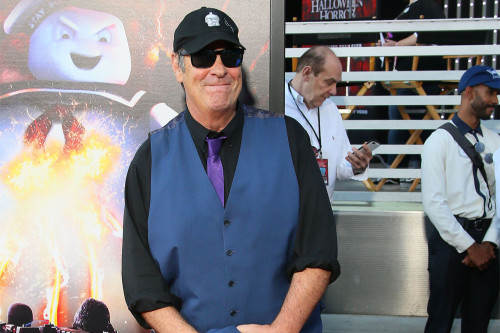 Dan Aykroyd has promised a "heartfelt" new 'Ghostbusters' movie.
The 70-year-old actor is set to reprise his role as Dr. Raymond Stantz in the untitled follow-up to the 2021 film 'Ghostbusters: Afterlife' and is convinced that the project will be a hit with fans of the franchise when it is released in December.
Speaking to the Metro newspaper, Dan – who created the supernatural franchise with the late Harold Ramis – said: "We're three-quarters through filming which means it's got to be edited and mixed and the CGI has to be put into it.
"I'm excited about this one. It's got a beautiful, heartfelt story, a great threat, some scary moments and it brings back Annie Potts and Ernie Hudson, Bill Murray and myself and we've handed the torch to new people, Finn Wolfhard and Paul Rudd and Carrie Coon."
The 'Blues Brothers' star also waded into the debate about gay roles only being played by gay performers by reflecting on the quality of Michael Douglas and Matt Damon's performances in the movie 'Behind the Candelabra'.
Dan said: "That was (director) Steven Soderbergh. The true-life story of (gay pianist) Liberace.
"Weren't Michael Douglas and Matt Damon perfect? If I were offered the part of a gay man, I would want to take it but what's the view in the gay community?
"Neither Matt or Michael are gay but they did a wonderful job. I think (only gay actors playing gay roles) is an invalid argument."
Dan previously urged comedians not to turn to "divisive" jokes in order to get laughs.
Discussing cancel culture, he said: "There is enough range in humour where you don't have to go scatological and you don't have to go pulling any divisive cards to get a laugh.
"There is so much in the world to comment on that is outside the realm of offensiveness."
Post source: Female First