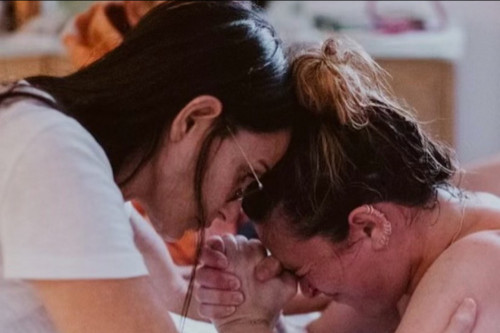 Demi Moore has posted a snap of her daughter Rumer in the agonising throes of labour to celebrate the actress' 35th birthday.
The 'G.I. Jane' star, 60, who had 'Once Upon a Time… in Hollywood' star with her 'Die Hard' actor ex-husband Bruce Willis, 68, on 16 August, 1988, included a snap of her grasping Rumer's hands as she lay with her face creased in agony as she had her daughter Louetta, who is now three months old, in a home birth.
Demi, who divorced Bruce in 200 after marrying him in 1987, captioned a carousel of images posted on her Instagram: "My life changed the day you were born. You brought a depth, meaning, and purpose to my existence along with an understanding of love that I had never known.
"Now here you are my baby, with your own baby, bringing even greater meaning, magic, and love into all of our lives," the proud mom continued. "So proud of you. Happy Birthday Ru! Happy New Year! Happy Celebration of Life! I Love You!"
Rumer, who had her little girl with boyfriend Derek Richard Thomas, 28, commented on the post by saying: "Oh mama (red heart and heart-eyed smiley face emojis) I love you so."
She added: "Knowing what it takes to help bring a soul into this world gives it a whole new meaning for me. I always thought this was my day but I know now it has always been ours. Happy birthday mama."
Bruce's current wife Emma Heming Willis also paid tribute to Rumer on her birthday.
The 45-year-old model is devoting her life to caring for Bruce as he battles dementia, and told Rumer she loved her in a post to mark her landmark age on Wednesday. (16.08.23)
She captioned an image that showed 'Chicago' actress Rumer holding who is thought to be one of Emma and Bruce's kids: "We love you so much @rumerwillis. Happy birthday my sweet."
Emma has daughters Mabel, 11, and Evelyn, nine, with Bruce, who also has girls Scout, 32, and Tallulah, 29, with Demi.
The star retired from acting last year due to the brain disorder aphasia affecting his ability to understand language, and in another update on his health last month, his family said he had been diagnosed with frontotemporal dementia, which affects behaviour, problem-solving, planning and emotions.
Post source: Female First