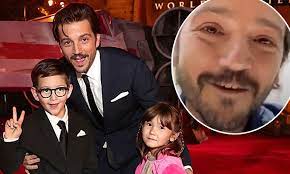 Diego Luna And Wife Camila Sodi Share Two Children – Diego Luna, a Mexican actor, and filmmaker is well recognized for his main appearances in "Y tu mamá" and supporting roles in various American films.
Being born on December 29, 1979, has starred in several iconic characters in movies including Frida, Milk, The Terminal, and Rogue One: A Star Wars Story. 
Luna was raised in a theatrical family. His father was a citizen of Mexico named Alejandro Luna who worked as a set designer and theater director. Likewise, his mother a citizen of Britain named Fiona Alexander was a costume designer.
In 2018, he portrayed Miguel Angel Félix Gallardo, the main actor, in Netflix's Narcos: Mexico.
He was the director of the 2014 biopic Cesar Chavez, starring Michael Pena.
Luna is recognized as the CEO of the Canana Productions film studio and the founder of the Ambulante festival in Mexico. 
Quick Facts About Diego Luna
| | |
| --- | --- |
| Full Name | Diego Luna Alexander |
| Date Of Birth | December 29, 1979 |
| Age | 42 years old (in 2022) |
| Profession | Actor, Director and Producer |
| Nationality | Mexican |
| Birthplace | Toluca, Mexico |
| Ex-Spouse | Camila Sodi (m. 2008–2013) |
| Siblings | Iván Amozurrutia |
| Known For | Y tu Mama Tambien, Havanna Nights, Rogue One: A Star Wars Story |
| Father Name | Alejandro Luna |
| Mother Name | Fiona Alexander |
| Children | 2 |
| Son | Jerónimo Luna |
| Daughter | Fiona Luna |
| Birth Sign | Capricorn |
| Net Worth | USD 12 million approx. |
How Was Diego Luna's Career Journey?
He started performing at a young age, appearing in theater, television, and films.
Diego played his first television debut role in the 1991 release movie The Last New Year.
In 1992, he appeared in the Mexican drama El Abuelo y yo. Since the broadcast of this drama, Diego started to get more and more opportunities and roles in theater, cinema, and television.
In 2001, he had his major breakthrough when he starred as Tenoch Iturbide in the highly regarded film Y tu mamá también, working with his close friend Gael Garca Bernal.
In 2002, with his emerging stardom and fame, Luna started featuring alongside big names in the movies like Frida, Open Range(2003), and The Terminal. Frida even earned six Oscar nominations, and it won two of them. 
Likewise, in 2004, he starred as the lead character in Havana Nights: Dirty Dancing 2. He started working in both America and the United States, and some of his other popular projects are Nicotina(2003), Solo Dios Sabe(2006), etc.
Later he was cast in the big production "Harvey Milk" as the lover of Sean Penn, for which he was nominated for the Screen Actors Guild of the United States. In 2012 he again got the opportunity to star alongside his friend Will Ferrell for the Casa de mi padre.
"Narcos: Mexico" offered him great success and popularity for representing the real-life story of drug lord Miguel Angel Felix Gallardo. In addition, his other movies were Flatliners(2017), If Beale Street Could Talk(2018), and A Rainy Day In New York(2019).
With his rising stardom, he also continued the voiceover job for Guillermo del Toro. In fact, in 2021, Diego also voice dubbed the character of Zatz in the animated series "Maya and the Three."
Furthermore, in 2021, Luna won the Daytime Emmy nomination for Outstanding Daytime Talent in a Spanish Language Program for his chat program Pan y Circo which was broadcasted through Amazon Prime Video.
Diego Luna As A Director And Owner of Production Companies
Diego Luna made his directorial debut in 2007 with the documentary on the renowned Mexican boxer Julio Cesar Chavez.
In 2010, he directed the movie Abel, which gained excellent reviews from the audience for portraying the bond between his son and his father. The movie was nominated for Best Foreign film during the Sao Paulo Film Festival.
In 2014, he directed the biopic of Cesar Chavez, one of the great Mexican American personalities. Later in 2016,  he came up with the movies like Danny Glover and Maya Rudolph-led Mr. Pig.
Recently in 2021, he even appeared with his directorial debut on TV with the Netflix family drama "Everything Will Be Fine."
In 2003, Luna and Garcia Bernal partnered with producer Pablo Cruz and established Cananas Films.
After quitting Cananas Films in 2018, Diego and Garcia launched a new film-TV enterprise named La Corriente del Golfo.
Luna and Garca Bernal, together with Adam Grant, declared in October 2019 that they would be associated with the Creative Advisory Board for television and film development enterprise EXILE Content.
Diego Luna's Ex-wife- Camila Sodi
Diego Luna, the Mexican star, married Camila Sodi, a model, singer, and actress in Mexico.
On February 5, 2008, the couple tied the knot with each other through court marriage. The couple met each other in 2007 during the shoot for "El Búfalo de la Noche." They were linked to one another in 2007 after they were seen together during the Cannes Film Festival. After one year of being in a relationship with each other, the pair got married.
But their marriage could not last long. After five years of marriage, the couple decided to separate with a mutual understanding in March 2013.
Through a public statement, the couple wrote in Spanish, "With much sadness, we are announcing that we came to a mutual agreement to separate." 
Currently, Sodi is pursuing her career as a TV actress and singer.
After the divorce, Luna has been linked with other women. His name was linked with the Colombian actress Paulina Davila. But in 2017, Davila confirmed that they were not dating and are good friends.
Similarly, his name was linked with several other girls, including Olga Segura, English model Suki Waterhouse, Yalitza Aparicio, and Marina de Tavira.
Diego Luna's Children
Diego and Camila share two children from their marriage, son Jeronimo and daughter Fiona Luna.
Diego Luna's Son- Jeronimo Luna
They welcomed their first child in 2008, named Jeronimo Luna. He was born on August 12, 2008, in Los Angeles.
Diego Luna's Daughter- Fiona Luna
After two years, the couple once again became parents to their daughter Fiona. She was born on July 1, 2010. Fiona was named after the mother of Deigo.
Fiona is the youngest child of the couple. In an interview with magazine C, Luna said that Fiona is passionate about music. 
In 2020, both his son and daughter contracted COVID-19, and he had to stay away from his children.
Know The Net Worth Of Diego Luna
Diego Luna is one of the wealthiest actors, with an estimated net worth of about $12 million. 
Luna has been associated with various professions, including Actor, Film Producer, Film director, Television producer, Presenter, Voice Actorlike, etc. Being involved in all these sectors, he has earned a large amount of capital.
He is also involved in the endorsement of several brands. He has endorsed the brands like Corona Beer, Verizon, Chivas Regal, etc.
Being the owner of Cananas Films and La Corriente del Golfo also adds to his net worth.
Diego Luna- Fast five facts
1. Diego Luna Had A Big Breakthrough Alongside His Childhood friend
In 2001, after appearing in Alfonso Cuarón's Y Tu Mamá También, Diego Luna's life went through a significant transformation.
Tenoch was portrayed on screen by Diego Luna, while Julio was portrayed by his childhood mate Gael Garca Bernal. After the movie, Luna featured in several films, including widely praised blockbusters like Milk (2008), Frida (2002), and Dirty Dancing: Havana Nights, released in 2004.
2. Diego Luna Is The Partner In Non-Profit
Diego and his mates Gael Garcia Bernal and Elena Fortes established a non-profit, Documental Ambulante A.C
Bernal and Diego have known one another since they were young, and they both featured in the telenovela El Abuelo y Yo when they were young.
Their firm Documental Ambulante A.C, mainly promotes documentary filmmaking. Documentaries are not often available in various regions, and their firm helps to bring programs to areas where documentaries can be easily accessible.
Moreover, the non-profit also conducts screening, workshops, seminars, etc., all over Mexico and other nations.
In addition to their work with Ambulante, Luna and Bernal collaborated in 2017 to raise money for a rescue operation after a terrible earthquake in Mexico.
Additionally, in 2018, Bernal and Luna started their own production company, La Corriente del Golfo. It is the second production house the two have launched together, which is situated in Mexico.
3. Diego Luna Was A Fan of Star Wars Since Childhood
During the press interview of Rogue One, Luna reflects on his early years as a Star Wars fan.
In an interview with USA Today, Luna discussed childhood around his elder relatives and cousins who were admirers of Empire Strikes Back. 
Felicity Jones and Luna mentioned about being their favorite Star Wars movie was The Empire Strikes Back, which also acted as a source of information and inspiration when they were shooting Rogue One.
4. Diego Luna Has A Great Interest In Photography
Luna shared his enthusiasm for photography in his GQ series 10 Essentials episode.
He recalls that his grandfather was a photographer. After his grandfather passed away, he and his dad learned how to use his tools to capture and develop images. Because of the thought and consideration required, he respects analog photography.
According to him, he is fascinated by "the entire process, which doesn't happen instantly but takes you to consider the most appropriate technique to photograph.
5. Diego Returns To Rogue One: A Star Wars Story
On September 21st, the Disney+ series Andor (2022) will premiere with Diego Luna making his come back as Rebel detective Cassian Andor in Rogue One: A Star Wars Story.
In addition to Luthen Rael and Maarva, played by Stellan Skarsgard and Fiona Shaw, respectively, the show will also include one of the most famous figures in the Star Wars fandom, Mon Mothma.
Some FAQs
When was Diego Luna born?
Diego Luna was born on December 29, 1979.
What is the role of Diego Luna in Star Wars?
Diego Luna portrays the role of Cassian Andor in Star Wars.
what is the height of Diego Luna?
Diego Luna is 1.78 m tall.
What is the age of Diego Luna?
Diego Luna is 42 years old. (As of 2022)