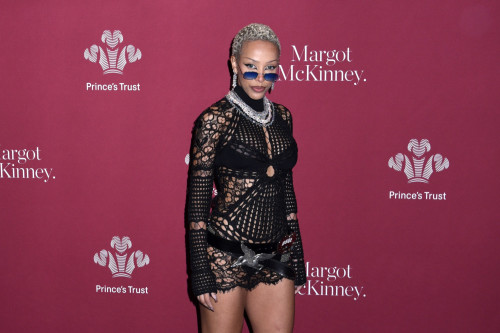 Doja Cat has mocked the Kardashians' litany of cosmetic surgeries by branding the reality TV clan "plastic".
The 27-year-old hit out at the family in her new song 'Wet Vagina', which came out on Friday.
It contains the lines: "Tell me why ol' shorty walkin' like she got a stick in her a**, And pretty face, plastic, it's givin' Kardashian."
Many fans said there should be no issue with her reference given the Kardashians' long relationship with cosmetic procedures.
Others pointed out Doja – born Amala Ratna Zandile Dlamini – is "plastic" herself after she admitted to having breast surgery and liposuction.
Kardashian 'momager' Kris Jenner's daughter Kylie Jenner, 26, recently admitted to getting breast implants before she got pregnant with daughter Stormi, five, after years of denying getting work done.
She said during an episode of 'The Kardashians': "I had beautiful breasts. Natural t***. Just gorgeous. Perfect size, perfect everything. And I just wish, obviously, I never got them done to begin with."
Kylie previously admitted she had lip fillers when she was 17 after fans continued to question her growing pout.
She said at the time: "I have temporary lip fillers. It's just an insecurity of mine and it's what I wanted to do."
Kourtney Kardashian, 44, has been open about getting a boob job when she was 22 years old.
She said in 2011: "I had my boobs done but if I could go back, I wouldn't have done it. I was so cute before."
Kim Kardashian, 42, has long denied getting plastic surgery despite constant speculation over her looks.
She finally admitted to getting Botox in her neck in May 2023, as well as using "a little bit of Botox".
Khloé Kardashian, 39, revealed in 2021 she got a nose job, telling Andy Cohen during a 'Keeping Up With the Kardashians' reunion show: "Everybody says, 'Oh, my gosh, she's had her third face transplant!' But I've had one nose job. "Everybody gets so upset, like, why don't I talk about it? Nobody's ever asked me. You're the first person in an interview that's ever asked me about my nose. I've done, sure, injections – not really Botox. I've responded poorly to Botox."
Post source: Female First