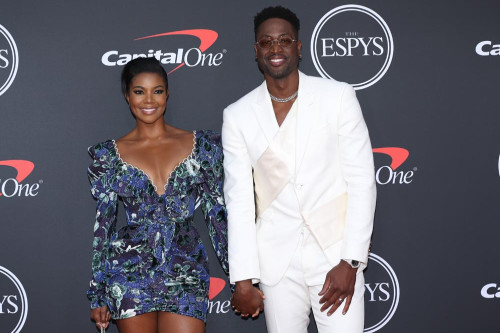 Dwayne Wade says telling Gabrielle Union he fathered a child with another woman in 2013 was "way harder" than competing in the NBA playoffs.
The 41-year-old basketball player was technically on a break from the 50-year-old actress when he fathered a child – Xavier Zechariah Wade – with Aja Metoyer but Dwayne admitted confessing to Gabrielle about the baby was tough.
Speaking on the 'Club Shay Shay' podcast, he said: "It was way harder to have a conversation with my now-wife. I mean, you're thinking about it. All right. It's all scary. The whole situation is scary enough.
"And no matter what people say outside or what people think, it's like, ultimately, like you got to sit with you.
"You got to sit with this person, this woman you're gonna be with, right? And I had to sit with my wife about this. Well, my now-wife about this."
The couple tied the knot the following year and Dwayne credits Gabrielle with making their relationship work.
He said: "I tried to pussyfoot around it. I tried to break up with her: 'Hey, you know things has been bad lately. We've been having a look at this relationship.' Anyway, I tried all that. She kept showing up.
"It hasn't been perfect. It will never be perfect. But that was nine years ago, and we still go to therapy."
"We've had shouts about it. We've had regular conversations about it. And so it's been something that is going to continue to be something that I have to work at, and it doesn't go away because years come or because I say 'sorry'."
Along with Xavier, Dwayne and Gabrielle's family include his children Zaire, 21, and Zaya, 16, from his first marriage to high school sweetheart Siohvaughn Funches-Wade, their ward Dahveon Morris, 22, and their daughter Kaavia, four, born via surrogate in 2018.
He said: "Ultimately, what I do know is at the end of the day, this is my family. This is my story. We're gonna get through this how we gonna get through it, but we gonna get through it."
Post source: Female First