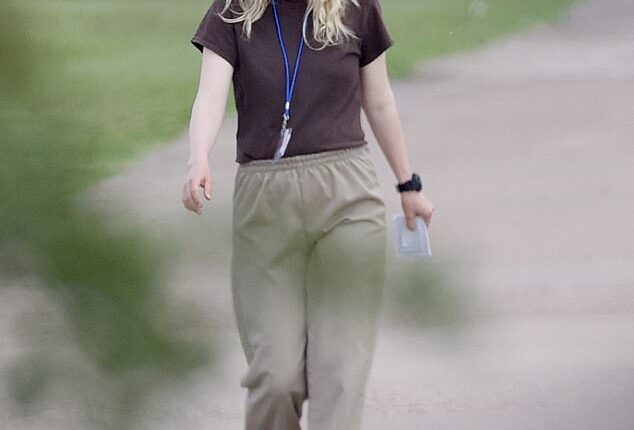 Elizabeth Holmes and Real Housewives of Salt Lake City star Jen Shah 'have bonded' in federal prison – and the Theranos fraudster regularly goes to the reality TV star's abs workout classes. 
Mother-of-two Holmes was found guilty last year of four fraud-related counts and was sentenced to just over 11 years in prison – a sentence she began on May 30.
While locked up at the federal Prison Camp in Bryan, Texas, the multi-million dollar pharmaceutical scammer has allegedly been doing workout classes and spending time with her fellow high-profile inmate, Jen Shah. 
Holmes, 39, has been taking maternal advice from Shah – and the pair of convicts have been help each other 'get through' their incarcerations. 
Reality star Shah started her six and a half year sentence in February 2023 after pleading guilty to conspiracy to commit wire fraud and money laundering. 
Mother-of-two Holmes was found guilty last year of four fraud-related counts and was sentenced to just over 11 years in prison – a sentence she began on May 30. She is pictured in the prison 
Jen Shah, 49, started her six-and-a-half year prison sentence for wire fraud in February
Her telemarketing scam conned thousands of people and went on for nearly a decade. She was was ordered to forfeit $6,500,000 and 30 luxury items.
Chris Giovanni, Shah's rep, told PEOPLE: 'They're friends. They're both rehabilitating and have bonded over being on this journey of positive change.
'Their situations brought them together, and they have a good understanding of one another. They're getting through it together.'
Shah, 49, is said to be a 'motherly' figure in the federal prison for Holmes – who gave birth earlier this year before she was locked up for her Theranos fraud scheme. 
The Real Housewife has even held Holmes' newborn baby during family visits.  
According to the source: 'Jen's given her a lot of advice. She's even met Elizabeth's baby and held her.' 
Holmes – known as Inmate 24965-111 – is also a regular at a fitness classes that Shah instructs for the other ladies inside the prison.
The class, which is called 'Sha-mazing Abs,' focuses on toning up your body. 
Giovanni told PEOPLE: 'Jen gets all the ladies together and they rally behind her while she teaches them fitness moves, and Elizabeth has been there right along with them.'
He said that both Holmes and Shah have 'changed a lot behind bars.' 
Prosecutors said Shah duped her victims into buying fake business mentoring programs, before they found themselves with unrelenting subscription payments they couldn't get out of
Holmes, then 29, is photographed holding a nanotainer of blood at Theranos headquarters in Palo Alto, California, in 2014 
Bryan prisoners share four-person rooms with bunk beds in a dormitory-style set-up – and are even allowed to buy hobby items including crochet needles from the commissary at $1.30 a pop. 
Holmes is serving her sentence out-of-state – miles away from the $9million San Diego mansion she shares with partner Billy Evans and their two children.
After her appeal to stay out of jail pending her court case was denied and she was ordered to prison, U.S. District Judge Edward Davila set a revised prison-reporting date of May 30, meaning Holmes was allowed to spend Memorial Day Weekend with her family before her spell in prison.
Holmes had once modeled herself as the next Bill Gates or Steve Jobs and won widespread acclaim – including from Harvard University and Time magazine – for a phony technology, which she claimed would revolutionize blood-testing methods by using miraculously tiny volumes of blood, such as from a finger prick.
The mom-of-two started Theranos when she dropped out of Stanford University at the age of 19.
The bombastic reality television star is pictured on the Bravo show
She had scooped in nearly a billion dollars in funding from some of the world's biggest pockets: Venture capitalist titans including Tim Draper, Donald Lucas and Dixon Doll; wealthy heirs to the founders of Amway, Walmart and Cox Communications; and heavyweights of tech and media such as Larry Ellison and Rupert Murdoch.
Before those lies were uncovered in a series of explosive articles in The Wall Street Journal beginning in October 2015, Holmes had raised a staggering amount of money from some of the biggest names in business and tech.
Holmes' stake in Theranos at one point catapulted her paper wealth to $4.5 billion.
Jen Shah has been married since 1995 to University of Utah special teams coordinator Sharrieff Shah, 52, who has visited his wife behind bars.
The Real Housewives Of Salt Lake City premiered on Bravo in November 2020 and Jen was arrested in March 2021 during filming of the second season.
Jen during season three of RHSLC maintained her innocence as her federal fraud trial approached.
The season three finale showed Jen in New York City changing her plea to guilty in a deal with prosecutors just ahead of trial.