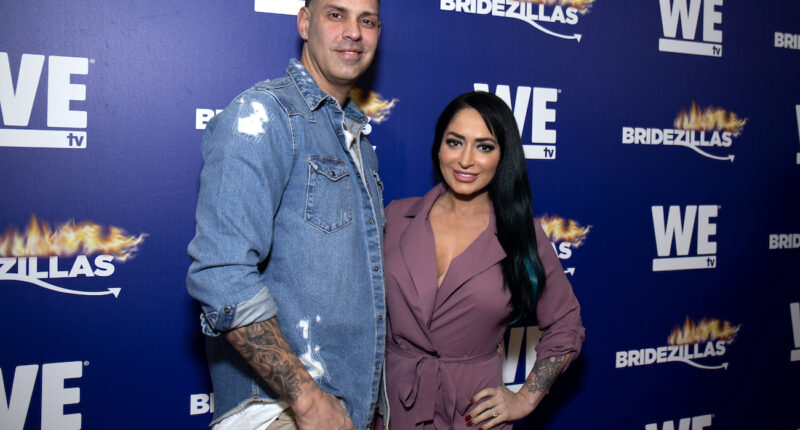 The premiere of Jersey Shore: Family Vacation gives fans a glimpse of Angelina Pivarnick and Chris Larangeira's relationship before he filed for divorce in January 2022. Angelina was fairly open about her marriage when the first half of season 5 aired earlier this year and even shared information about her separation. Now, fans are getting an even closer look at the end of Angelina and Chris' marriage.
Chris Larangeira appears in the premiere of 'Jersey Shore: Family Vacation' 
In the season 5B premiere, Chris and Angelina move into her new home, which she purchased at the end of 2021. Angelina mentions how much better they were doing after their trip to Florida, but claims Chris wasn't showing her much attention after that. 
Angelina's roommates stop over for a tour of her new house and Chris is there to show off the home, complete with an unfinished basement and a koi pond. However, his appearance in the Jersey Shore: Family Vacation premiere doesn't last long. Just before Christmas, when the show was filming, Chris moved out of Angelina's home. 
Chris and Angelina got into a fight before she left to film 'All Star Shore' 
Angelina joined the All Star Shore cast, a competition series starring reality TV celebrities from all of the Jersey Shore spinoffs. The show was filmed at the end of 2021, and as Angelina reveals in the JSFV premiere, she and Chris got into an argument before she left. 
"He was like, 'F*** you, b****, I hope you die in a f***ing plane crash,'" Angelina tells the cameras. "This is not a f***ing marriage," she added, citing how little attention Chris gave her before she got on a plane. While on the trip, Angelina said she didn't have much communication with Chris. 
Angelina spent Christmas alone after filming 'All Star Shore' 
When Angelina got back from filming All Star Shore in Spain, Chris was "nowhere to be found." Angelina said his lack of presence was a "perfect representation of how [their] relationship is as a whole."
The Jersey Shore star spent the Christmas holiday with her sister, Alyssa. "I swear I would have been alone for Christmas this year if it wasn't for my sister," Angelina says in the episode. "Thank God for her." 
As Angelina tells Alyssa, she thought her relationship with Chris was "taking a turn for the better" while Jersey Shore: Family Vacation was filming in Florida. Chris went on the trip with Angelina and the two made breakthroughs in their communication with the help of a sex expert. 
However, the fight they got into before Angelina left for Spain changed things. Later in the premiere episode, the roommates find out Angelina took a trip to Cancun, Mexico, with one of her All Star Shore co-stars (who called her "amor" and complimented her while filming), Luis "Potro" Caballero. Angelina says the All Star Shore cast did a lot of "hooking up," but didn't exclusively reveal if she and Luis had relations. 
Angelina Pivarnick claims to have damning texts from Chris in the 'Jersey Shore: Family Vacation' premiere
Ahead of the premiere, Angelina promised fans would get answers about her relationship with Chris in the new season of Jersey Shore: Family Vacation. During the episode, she refers to Chris as "cancer" and adds:
"I have so many texts in my phone that people would be like … 'What the f*** did you stay with this guy for?'"

Angelina Pivarnick, 'Jersey Shore: Family Vacation'
In a conversation with her sister, Angelina compares Chris to the kind of man her father was when they were growing up. "I don't know how many times I would see daddy screaming at mommy," Angelina says. "It's been instability since we were born." 
"He reminds me of my father in a lot of ways," Angelina tearfully tells the cameras. At the end of the episode, Angelina has Deena Cortese over for wine and a tea-spilling session. She tells Deena Chris moved out and asks for the information to stay between them — for now. 
See how the rest of Angelina's story plays out. Watch Jersey Shore: Family Vacation on MTV every Jerzday at 8 p.m. ET.
RELATED: 'Jersey Shore: Family Vacation': 3 Things That Caused Drama in the First Half of Season 5