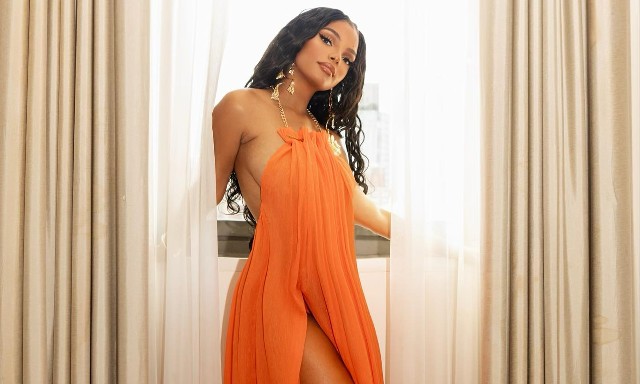 Fans are convinced that Halle Bailey is pregnant after her appearance at the 2023 VMA's. The 23-year-old turned heads at the award show in a stunning orange halter maxi dress. While the starlet undoubtedly stole the show with her beauty, it was her choice of attire that had fans speculating about a possible pregnancy.
Social media platforms exploded with fans expressing their thoughts and opinions on the matter. Twitter became a hub for discussions, and fans wasted no time in sharing their speculations.
One Twitter user boldly declared, "Halle Bailey is pregnant," sparking a flurry of responses and discussions across the platform. "I think Halle Bailey is pregnant, and I hate that for her," another fan chimed in.
Amidst the rumors and speculations, one user took a more compassionate stance, emphasizing the importance of respecting celebrities' privacy regarding such personal matters:
"Note to everyone : Celebs do not owe you an announcement on rather they're pregnant or not. Let's normalize not bullying ppl into announcement because some ppl do end up losing their kid and it's hard. Also, it's just none of anyone's business," the user wrote.
Another concerned fan shared, "If Halle Bailey is indeed pregnant, she needs a lot of love and support right now. All this stress affects the little baby ? , and no one wants that. Yes, DDG needs to mature quickly and take responsibility. It would be best if he apologized for his past actions, and we're good".
Rumors began to circulate in August that Halle and her boyfriend, DDG, are expecting their first child together. The rumor started after a video surfaced showing Bailey wearing an oversized t-shirt and what appeared to be a noticeable belly bump.
Halle's sister, Chloe, later jumped online to seemingly refute the rumors. "Y'all better keep my sister's name out your mouth," Chloe expressed. "Thank you. Amen, hallelujah. 'Bout to get me riled the hell up. Anyways…"
Someone in Chloe's background then said, "we don't play about Halle." "No," the singer replied. "Like, what the heck? Period."