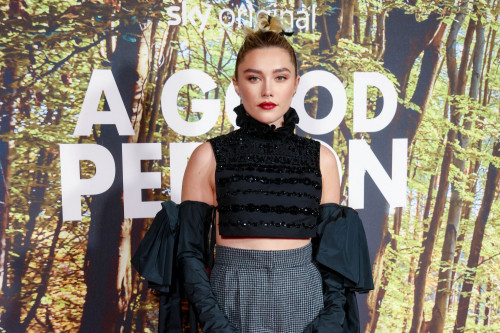 Florence Pugh and Andrew Garfield are set to star in 'We Live In Time'.
Insiders say that the duo, who presented together at the Oscars on Sunday (12.03.23), are in negotiations on the project that is being described as a funny, deeply moving and immersive love story.
If deals for Pugh and Garfield are completed, the plan is to shoot the movie later this year.
John Crowley will direct the film from a script by Nick Payne. Leah Clarke, Adam Ackland and Guy Heeley are producing with 'Sherlock' star Benedict Cumberbatch serving as an executive producer.
'We Live In Time' will be the latest project in Florence's busy schedule as she is already set to star in 'A Good Person', 'Oppenheimer' and 'Dune: Part Two' in 2023.
The 27-year-old star recently explained how she embraces acting projects that provide her with a challenge.
She said: "It's no secret that I can only pick very intense roles.
"This isn't the first time I've been reduced to tears pretty much every single scene that I've been in. I like finding the ugliness in humans. I love being raw. I love being given a script where it challenges myself and I have never picked a role unless I've been scared of it."
'A Good Person' has been directed by Florence's former boyfriend Zach Braff and she explained how he had incorporated her personal traits into the film.
The 'Black Widow' star said: "He knows how I talk, he knows how I take the p*** out of people and I think he just put that in his script and I was allowed to come and fill in where it was needed.
"But reading something that is dedicated for you written by someone who knows you so well is a wonderful gift."
Post source: Female First