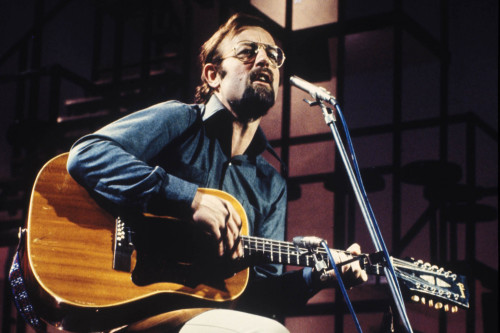 Folk singer/songwriter Roger Whittaker has died at the age of 87.
The musician, who was an expert whistler, had hits with songs such as 'Durham Town (The Leavin')', 'The Last Farewell' and his 1982 version of 'Wind Beneath My Wings' as well as huge success with the 'Skye Boat Song', a duet with Des O'Connor in 1986.
Confirming his passing, Roger's website homepage currently shows a picture of the late musician, alongside his year of birth and death and invites fans to leave a comment in an online book of condolences.
The tributes have flooded in and one fan, Brenda Mackie from Chorley, wrote: "Sincere condolences to Roger's family. His music, beautiful voice and whistling have been part of my life. It uplifts me every time I play his songs and he will be sorely missed . A true talented gentleman RIP Roger."
Whittaker was born in Nairobi, Kenya, in 1936, while his parents were from Staffordshire, England.
He initially studied medicine after doing national service in Kenya, where he spent two years in the colonial Kenya Regiment fighting the Kenya Land and Freedom Army, or Mau Mau, who wanted independence from the UK.
Whittaker quit his medical course after 18 months and went in to teaching, and from 1959 he studied zoology, biochemistry and marine biology at the University of Bangor in Wales.
Following his move to the UK, the guitarist began singing in local folk clubs and penning his own songs and it was in 1962 that he was signed to Fontana Records and released his first single 'The Charge of the Light Brigade'.
Whittaker's breakthrough came when he was asked to appear on an Ulster television show in Northern Ireland called 'This and That'.
From then on the hits came, with 'Durham Town (The Leavin') reaching the top 20 in the UK. He went on to have chart success in the Nordic countries, France and Germany as he was able to sing in those languages.
In 1974, he performed at the Finnish Eurovision Song Contest qualifying rounds and his song 'The Finnish Whistler' became famous in Finland as it was used as the title music for the popular Finnish television cooking programme 'Patakakkonen'.
Whittaker – who sold almost 50 million records during his career – retired with his wife Natalie in France in 2012.
He is survived by Natalie – who he tied the knot with in 1964 – and their five children, Emily, Lauren, Jessica, Guy and Alexander.
Post source: Female First