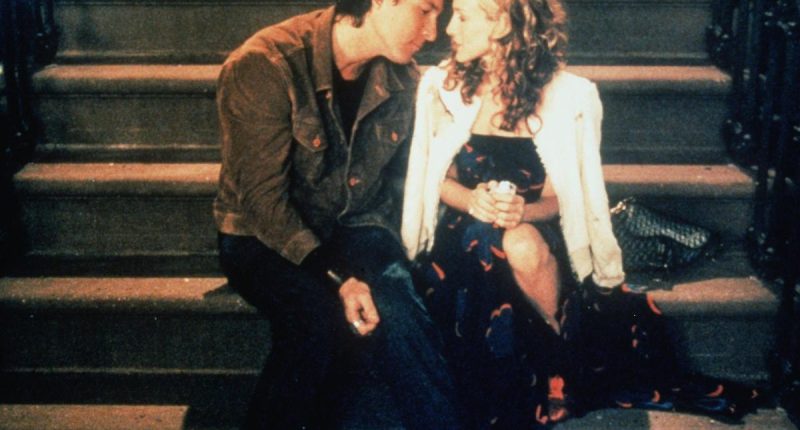 The Sex and the City spinoff series And Just Like That… has been making waves on social media in recent weeks after the unveiling of an image that featured Carrie Bradshaw (Sarah Jessica Parker) alongside her old flame Aidan Shaw (John Corbett).
The Instagram image didn't offer any context or clues as to what role Aidan will play in the life of recent widow, Carrie. Still, fans are diving deep into what they know about Aidan and what the upcoming second season of the HBO series will hold.
John Corbett will reprise his role as Aidan in 'And Just Like That…'
Corbett teased his return as Aidan well before the premiere of the first season of And Just Like That…, telling Page Six "I'm going to do the show. I think I might be in quite a few (episodes)."
As it turns out, Corbett's reveal misled a few fans who believed he would be in the show's first season, which debuted in December 2021. Aidan was nowhere to be seen and wasn't even mentioned in the first season. Instead, it focused primarily on the death of Carrie's husband, Mr. Big, and Carrie's life as a new widow.
However, on January 13, 2023, the official Instagram account for the show shared a new image, one featuring Parker and Corbett on the set of And Just Like That…, ostensibly hard at work filming Season 2. The two were hand in hand, prompting speculation that Aidan and Carrie will pick up where they left off in the 2010 movie Sex and the City 2.
According to Vogue, the image has launched a media firestorm. Many fans are trying to figure out what role Aidan could have in Carrie's life post-Big.
How many kids does Aidan Shaw have?
In Sex and the City 2, Carrie and Aidan encounter each other in Abu Dhabi, where they reminisce about old times — and their former romance. During the course of their conversation, Aidan tells Carrie he has three sons, Tate, nicknamed "Tater," Homer, and Wyatt.
While Aidan doesn't reveal the exact ages of his sons, Carrie bumps into Aidan, his then-wife Kathy, and baby Tate in Season 6 of Sex and the City, which aired from 2003-04. This would put Aidan's oldest son at around seven years old in Sex and the City 2 and around 20 in And Just Like That…
Aidan's other two sons are younger than Tate, so they are likely young teenagers. It isn't clear if Aidan went on to have more children in the years after his conversation with Carrie in Abu Dhabi. However, it is very possible since he was always shown as being a family man who wanted lots of kids.
How could kids impact Aidan's relationship with Carrie?
Fans of the franchise will remember that one of the reasons why Aidan and Carrie broke up is that she was afraid of committing and of "settling" for a traditional relationship that included marriage and children.
If Aidan and Carrie are truly reviving their romance in the second season of And Just Like That…, it could be Aidan's sons who challenge Carrie to think about her life in a new way.
Carrie could find that she is ready to be a stepmother. Or it could be a point of contention between her and Aidan, which splits them up again. For now, it is too early to know the exact nature of their relationship, so fans will have to continue to speculate.