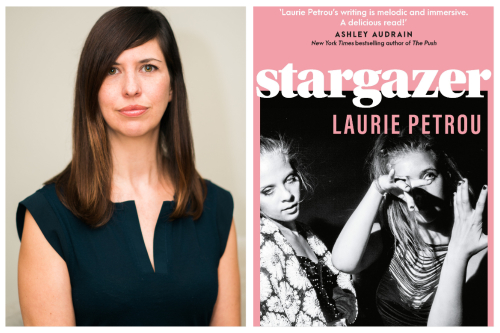 I was admitted into the Queen's University Fine Art Program in Kingston, Ontario, in 1995. I swore I wouldn't go to Queen's, because my brother was two years into his own studies there and I wanted to carve my own way. But once I saw Ontario Hall, the limestone Fine Art building with enormous drawing, painting, sculpture, and printmaking studios, I was a goner. There were only 30 students accepted to the program each year, and the notion of such a small cohort having access to so much space lit my imagination before my first day.
How to describe those years, that in many ways coloured my fourth book, Stargazer? Our studios were open 24 hours a day, and many of us worked deep into the night together, getting into trouble, listening to new and old music, inspiring each other to make bigger, more daring work. It was before cell phones, and so we often dropped into the studios just to find a friend, and ended up staying there, flopped into an old couch or chair that was splattered in paint or glue, and began or continued our own projects. We befriended one of our professors, and enjoyed dinners at her house, some students babysitting her daughter. We drew on the walls of the studios, the elevator, and on our bedrooms in our low-rent, broken-down houses; our bags and knapsacks always containing an oil stick or Sharpie in case the opportunity arose to draw on anything, anywhere. I think of wide-legged pants, fun-fur jackets, large plastic sunglasses that characterized our style of the time. We took a trip together to New York City, and a photo of a group of us on swings in Central Park, all with poorly-dyed hair and ill-fitted clothes, hangs in my living room. We look happy, defiant, hungover. The photo was a wedding gift. To summarize: I came to be the person that I am now in those years at art school. I made friends for life, many of whom continue to work as artists in Canada and internationally. I like to think that our year, our group, was special; but don't we all?
When I began to conceptualize Stargazer, it wasn't art school that I was thinking of. I wanted to explore ambition, envy, pride. Diana – the Huntress, her name coming to be almost before anything else – arrived fully formed into my mind. Something of her pure, confidence is drawn directly from some, if not all of us during that period when we, like so many young people, had absolute, unwavering opinions on everything from art to the wider world. That Diana would be an artist was an organic development, and Rocky Barrens University, the place I knew would be the site of the bulk of the story, had to have a strong art program where she would thrive. The mood, the era, the tiny details of the art school experience: they are taken wholesale from my experience as a young painter. How did art school inspire Stargazer? In vital ways. It is my love letter to that time, and the bold and daring kids we were.
Post source: Female First