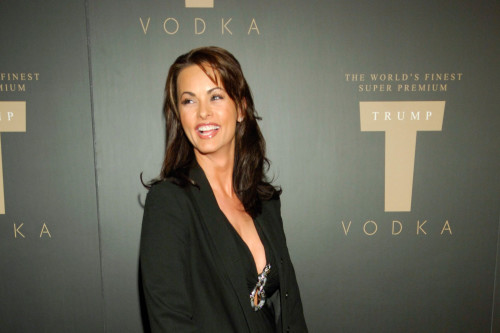 Karen McDougal says she ended her "10-month affair" with Donald Trump to be with Bruce Willis.
The 52-year-old model has claimed she began a relationship with the former US president – who has been charged with business fraud over hush-money payments to ex-porn actress Stormy Daniels – in 2006 and explained that while she was "in love with him" for a period of time, she eventually ended things a short time later so she could strike up an even shorter reunion with 'Die Hard' star Bruce.
She told the Daily Mail: "His people have denied it, but he's never denied it. A reporter asked him: 'Did you have an affair with Karen McDougal?' and all he said was: 'I've done nothing wrong.' He knows I'm telling the truth.
"I was in love with him. He was in love with me. I know that because he told me all the time. He'd say 'You're my baby and I love you'. He showed me off to his friends. I'm portrayed as the disgruntled woman, but I am not that woman. I ended it. A family member came to town and we went to a bar and I met a lovely man named Bruce [Willlis]."
The Playboy star went on to add that she wasn't "cheating" on Donald – who has been married to Melania Trump since 2005 – but had been talking to Bruce, who at that time had already divorced Demi Moore and did not marry current wife Emma Heming until 2009, "alot" so it "made it easier" for her to just end things.
She added: "'I wasn't cheating on Trump but Bruce and I were talking on the phone a lot already so that made it easier to end it. Why would I stay with a married man when Bruce was a nice guy, and single?'
Karen claims she had met Donald after he attended a party for contestants of 'Celebrity Apprentice' – on which the billionaire businessman served as a judge – Hugh Hefner's Playboy mansion, where she says it was noticed that he "followed her found like a puppy."
She added: "He followed me around like a puppy dog, trying to get my attention. He took to me so much that the Bunny Mother (the woman charged with looking after the women working as Playboy bunnies) said: 'Wow, he really has a thing for you'.'
"I was saying goodbye and he was standing next to his bodyguard Keith Schiller (who later got a top job at the White House, before being fired) and he said, 'Keith, get her number,'.'
'"He called a few days later and asked me to have dinner with him at the Beverly Hills Hotel. I'm ashamed about it now because I knew he was married but at the time it was out of sight, out of mind. I was a different girl then, having fun and not thinking about things too deeply."
Post source: Female First