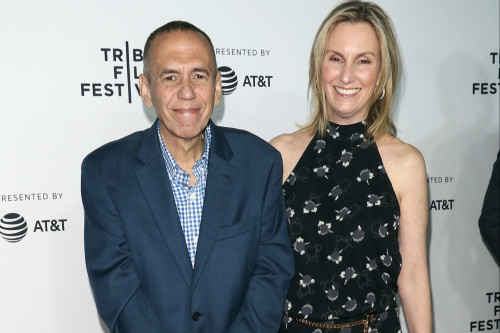 Dara Kravitz felt "so lucky" to have been married to Gilbert Gottfried.
The comedian and actor – who was best known for providing the voice of Iago the Parrot in Disney's 'Aladdin' franchise – passed away after a "long illness" at the age of 67 in April 2022 and now his widow has explained she has spent the last year thinking about her husband's mantra that comedy and tragedy go hand-in-hand.
Writing for PEOPLE magazine, she said: "Gilbert used to talk about the comedy and tragedy masks. He'd say, "Comedy and tragedy are roommates. Wherever tragedy is, comedy is looking over his shoulder and sticking its tongue out at him."
I've thought about that a lot over the past year. Sometimes, I feel nauseous from the amount of grief, but we must keep living and laughing. Thank you, Gilbert, for giving us the gift of laughter and love. You know, The New York Times wrote an article about us once. In it, I said, "I knew I'd never find anyone else like him." And Gilbert replied, "Most people are hoping that they never find anyone like me." Gilbert was wrong. I'm so lucky to have found him. We love and miss you, Gilbert."
Gilbert – who was also known for his role in 'Problem Child' and made appearances on the likes of 'House of Mouse' and guest-starred opposite Miley Cyrus in 'Hannah Montana' – suffered from a rare genetic disease called Myotonic Dystrophy Type 2 (DM2 and his widow went on to reveal that she is now on a "mission" to raise money for research.
She added: "Surprisingly, it is the most common form of adult-onset muscular dystrophy. Unfortunately, most people — including MANY doctors — have never heard of it! Gilbert was undiagnosed for YEARS!
"I am on a mission to raise awareness and research funds. The money raised in Gilbert's honor will go directly to research specifically for DM2 NOW! The U of Rochester is exploring innovative and promising treatments for DM2. Immediately, the monies raised would go towards expediting the discovery, testing, and development of beneficial and life-altering therapeutics for patients with DM2. Please consider donating in Gilbert's honor to the Gilbert Gottfried DM2 Research Fund."
Post source: Female First