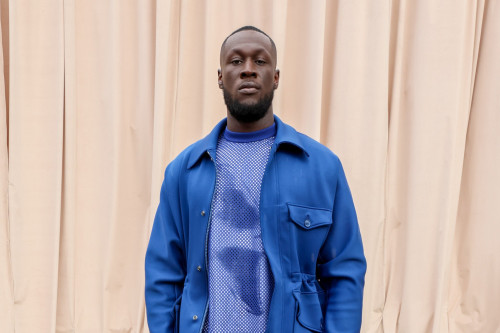 Stormzy has become "more fearless" than ever.
The 29-year-old rap star enjoyed huge success with his 2017 debut album 'Gang Signs and Prayer' – but Stormzy believes that he's become more mature in recent years.
He told Dazed magazine: "I think now even creatively nothing has changed.
"I think maybe now I'm even bolder, and I'm even braver, and I'm even more fearless. But I've always been that … I'm all those things but with maturity."
Stormzy feels he's now very different, but also similar, to his 2017 self.
He explained: "This artist and the artist who made 'Gang Signs and Prayer' are so different, but they are exactly the f****** same.
"'Gang Signs and Prayer' Stormz and 2023 Stormz, neither of them gives a f*** about pleasing someone's appetite. Not in an ignorant way, [but] because it's coming from a real, genuine place in [my] spirit."
In 2018, meanwhile, Stormzy launched a scholarship to help pay for two black British students to attend the University Of Cambridge.
The rapper subsequently explained that he feels "blessed" to be in a position whereby he's able to help his community.
He told GQ magazine: "I always talk about this with a disclaimer: I don't want to sound all heroic or nothing.
"As I said before, my community raised me. Now that I'm in a blessed position, there are hella things I can do to help. I went to college to do my A levels and I remember how hard it was. So now that I'm in this position, I call [academic success] a special kind of gangster. Because being a university student and a college student? That takes a different level of gangster! These Cambridge students who are getting A*A*A*, I've always admired that. I've admired academic brilliance.
"Any time I meet someone who goes to Cambridge and it's a young black man or woman, I say, 'Bruv, that's gangster!'"
Post source: Female First