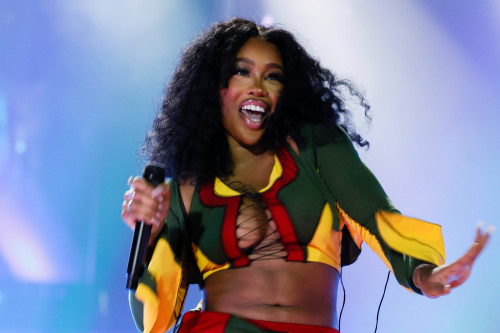 SZA thinks she's "one scandal away from being cancelled".
The 33-year-old music star has enjoyed huge success in recent years – but she's aware that fame can be fleeting.
She told ELLE magazine: "It's all really fickle … Had the first three shows of my tour gone poorly, would the rest of my dates have been sold out? Would those people be outside waiting in line by the time we got to Los Angeles? No. All it takes is, what, three poorly shot TikTok videos to basically decide that this tour is not worth coming to see.
"I know that people don't love me because love is really unconditional, and I'm one scandal away from being cancelled indefinitely like anyone else."
SZA feels proud that she's developed a strong connection with her fans.
However, the 'Kill Bill' hitmaker is conscious that her success is fragile.
She reflected: "I'm grateful that they like my art and that it speaks to them, and it connects and tethers all of us together in this weird way. It's dope, but it's also still a string that could be cut at any moment.
"Literally, sometimes there's no rhyme or reason to it. Remember Susan Boyle? Like, what if I'm Susan Boyle?!"
SZA also acknowledged that she has real "feelings and fears" about fame.
She explained: "Some people think that, like, me having anxiety or me being shy or struggling with self-esteem is an act.
"I'm just, dead-a**, a person. Everybody else has feelings and fears. Why wouldn't I be scared to be famous? Would you be scared to be famous? Because I'm famous, I'm not allowed to be scared?
"I wasn't born famous. I had regular quiet-a** parents from a small town like everybody else. And I guess at some point I'm supposed to acclimate to all of this?"
Post source: Female First