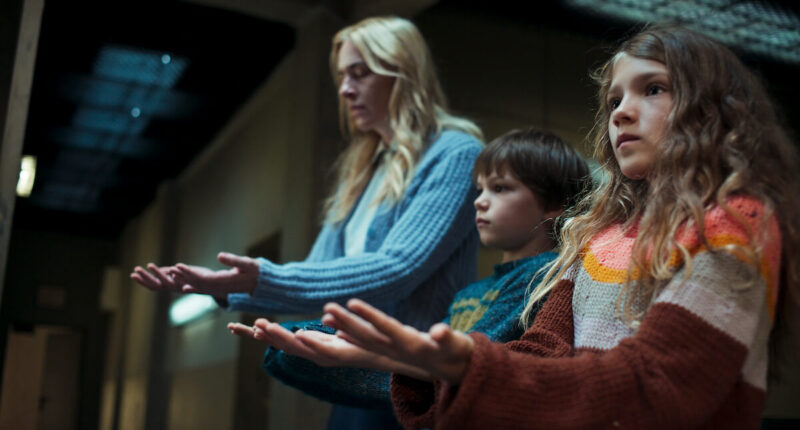 Netflix's latest must-watch show is the German thriller Dear Child.
The new limited series begins with a car accident. A woman runs through a dark forest, dressed only in a nightgown. She's struck by a car, and she and the young girl who is with her are taken to the hospital. But who are they? And from what are they fleeing? The tense mystery unfolds over six episodes, as we learn the truth about the woman, whose name is Lena (Kim Reidle) and the girl, Hannah (Naila Schuberth).  
Netflix's 'Dear Child' is not inspired by a true story 
Dear Child's opening moments offer some clues about what is really going on with Lena. She, Hannah, and a young boy (Sammy Schrein) appear to be living in a locked, windowless bunker. A man, whom Hannah calls dad, visits them and gives them food. He reminds Lena that she shouldn't cry in front of the children and that there are rules she must follow. 
These scenes recall several disturbing real-life crimes, including the cases of Elisabeth Fritzl and Jaycee Lee Dugard. Elisabeth was an Austrian woman who was held captive by her father in a basement bunker for more than 20 years. Jaycee was kidnapped at age 11 while walking to catch the school bus and held captive for 18 years. Both women gave birth to children with their abductors. 
However, despite some initial similarities to actual crimes, Dear Child is not based on a true story. The story is entirely fictional.  
'Dear Child' is based on a book
While Dear Child is (thankfully) not inspired by real events, it is based on a book. Romy Hausmann's best-selling German novel of the same name is the basis for the show.  
In an interview with the American Booksellers Association, Hausmann revealed that she didn't know exactly where the story was going when she started writing. 
"I don't plot (or at least only rarely, when I'm completely stuck)," she explained. "I just set up the initial premise and try to create the characters as defined as possible. Then I start to write asking myself again and again how this character should behave next, what is realistic, and above all: How would I behave in this situation?"
When it comes to inspiration, Hausmann credits books like Gone Girl and The Girl on the Train with leading her to write Dear Child. 
"I wanted to write something like that, too," she said. "So a big thank you to Gillian Flynn and Paula Hawkins, without whom I would never have started writing thrillers. I still read everything I can get my hands on from both authors."
Although Dear Child is a work of fiction, Hausmann did say that she looks to real events to jumpstart her writing. (She's also the author of the 2022 novel Sleepless.)
"I'm also very much inspired by true crime cases," she said. "I watch a lot of documentaries on television and am particularly interested in unsolved crimes."
Dear Child is now streaming on Netflix. 
For more on the entertainment world and exclusive interviews, subscribe to Showbiz Cheat Sheet's YouTube channel.