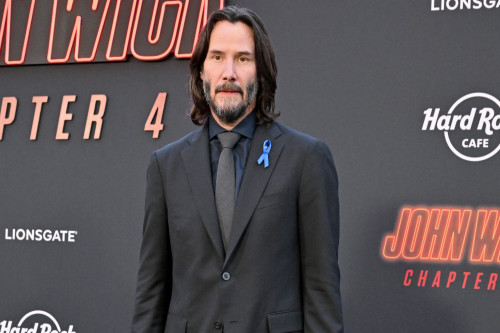 Keanu Reeves says Lance Reddick's death "f****** sucks".
The 58-year-old actor spoke about his grief at the Los Angeles premiere of 'John Wick: Chapter 4', in which he starred with 'The Wire' star Lance before he "died suddenly" from natural causes on March 17 aged 60, according to his representative.
Keanu told Deadline on the red carpet of the TCL Chinese Theatre on Monday (20.03.23) night: "He was a beautiful person, a special artist (and) a man of grace and dignity (with) such a passion for his craft.
"To have had the chance to work with him over the 10 years and four films (in the 'John Wick' franchise) is something very special to me.
"It f****** sucks he's not here."
Keanu added to Entertainment Tonight that Lance – who is survived by wife Stephanie Reddick, as well as daughter Yvonne and son Christopher, whom he had with Suzanne Yvonne Louis-Reddick – was a "shining light"
Keanu and other stars honoured Lance at Monday's event by wearing a blue ribbon to his suit.
His fellow 'John Wick 4' co-stars Laurence Fishburne, who starred with Keanu in 'The Matrix' series, as well as Natalia Tena and Rina Sawayama also wore the accessory on the red carpet.
Laurence, 61, told reporters Lance's death was a "shock" that had left him struggling.
He added about his late co-star's role in 'John Wick 4': "He's the goodness of this film. He was kind of, in many ways, the heart of the film because his character loved John Wick."
Keanu and 'John Wick Wick 4' director Chad Stahelski, 54, said about Lance in a joint statement after news of his death broke: "We are deeply saddened and heartbroken at the loss of our beloved friend and colleague Lance Reddick.
"He was the consummate professional and a joy to work with. Our love and prayers are with his wife Stephanie, his children, family and friends."
Post source: Female First