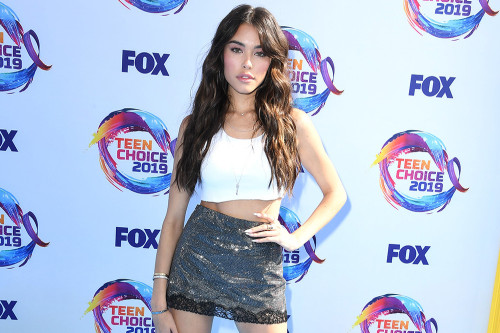 Madison Beer refuses to see other pop stars as "competition".
The 24-year-old singer has actually been "conditioned" to assume that other women in the industry look at each other as competition – but Madison doesn't see things that way.
Speaking to PEOPLE, Madison explained: "I've always felt like that's so f****** weird, and I hate that.
"I've never looked at other girls, really, as competition.
"There have, unfortunately, been people l've met that I've loved that I've been like, 'Oh, f***, I don't have your support because you might look at me and not want me to win because something in your head thinks that if I win, you lose,' and that's just not how I am."
Madison is a long-time fan of Lana Del Rey and she's received a huge amount of support from the award-winning star.
Madison said: "Meeting Lana was just so huge for me because the phrase, 'Never meet your idols,' that's just not true when it comes to someone like her.
"She's just incredible, and she's been so supportive, so there for me as a friend, an idol, a supporter of my music and of me as a person."
Meanwhile, Madison previously revealed that she's developed a "really beautiful relationship" with herself.
The singer has become "a lot easier" on herself after facing fierce criticism on social media earlier in her career.
She told the 'Reign with Josh Smith' podcast: "My internal criticism I don't think is as harsh as it used to be. I think I'm a lot easier on myself, I've developed a really beautiful relationship with myself that I feel really lucky to have.
"I've been on the internet now for over ten years and I've gotten hate consistently since I joined it when I was 12.
"So I think that I had to make a decision at one point, am I gonna leave social media entirely and stop participating because it's not good for me? Or am I gonna change the way that I manoeuvre it?
"Am I gonna make that promise to myself that we're not gonna get in holes of reading comments for hours and we're not gonna engage with negativity?"
Post source: Female First